Concerns have been raised over whether people with guardianship orders in Scotland have been informed if the individuals they support have a form instructing medics not to attempt resuscitation.
New figures published by the Mental Welfare Commission on Tuesday suggest it is unclear if guardians had been told about the do-not-attempt CPR (DNACPR) form in 67% of such cases.
The commission's report says DNACPR is not applicable to 61% of guardians but made visits to 122 individuals in the remaining 39% and found the majority of those had either not been informed or the issue was unclear.
Guardianship orders are used to safeguard those who lack the capacity to make their own decisions, with 15,973 orders in place in Scotland as of this March.
It marks the highest figure ever recorded – up from more than 6,400 people in 2012, with 3,199 orders granted in 2019-20 (a 7% increase on the previous year).
The majority (74%) of granted guardianship orders last year were private, from relatives or friends, with the remainder from local authorities.
As well as a lack of clarity over DNACPR, the commission also found just 76% of individuals and guardians had received a visit from a supervising officer in the past six months.
The same figure (76%) had the correct medical certification from doctors for their medical treatment, which suggests just under a quarter do not have the proper paperwork.
Julie Paterson, Mental Welfare Commission chief executive, said: "Guardianship orders are designed to protect some of the most vulnerable people in our society.
"This new report includes a detailed statistical breakdown of what's happening in relation to guardianship orders across Scotland and also the views of people who are living with these orders – both individuals and their guardians.
"In previous years we have said that we believe the law needs to be modernised and streamlined to ensure care can be provided when it is needed, and to better protect the rights of people with dementia and learning disabilities.
"We welcome the commitment of the Scottish Government to reforming the Adults with Incapacity Act, which will be considered alongside the review of the Mental Health Act.
"We hope that local authorities, integration joint boards, health and social care partnerships and others find the information in this report valuable as they plan and operate their services.
"We particularly ask that the issues we raise in relation to findings on our visits are addressed."
A Scottish Government spokeswoman said: "All people being cared for by our NHS deserve to be treated with dignity and respect at all times – regardless of their age or medical circumstances.
"We welcome this report and the findings of the Mental Welfare Commission, and will continue to work with them and other stakeholders to ensure a person's rights, will and preference are first and foremost in any decision taken, and that they get the care that is right for them.
"We want adults with impaired capacity to get the best possible support to maximise their decision-making ability.
"That is why we are reviewing practice in relation to care, particularly focusing on changes to guardianship processes to improve people's experience.
"Given the increase in guardianship numbers, we also want to enable people to make their own decisions about their support, without the need for a guardianship order where possible.
"There is a need for reform of the Adults with Incapacity Act and we have instigated the independent review of mental health and incapacity law. Ongoing work to reform this area will be informed by the results of this review."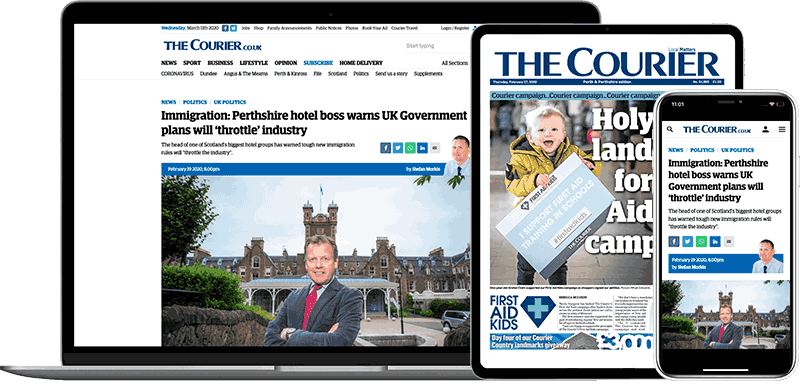 Help support quality local journalism … become a digital subscriber to The Courier
For as little as £5.99 a month you can access all of our content, including Premium articles.
Subscribe