A "seemingly panicked response" to coronavirus outbreaks left students confused and worried, the lawyer appointed to oversee the use of emergency powers has said.
Human rights advocate John Scott QC said there should have been clearer messaging before students entered university halls.
He also criticised the "blurring" of criminal law and university rules, and said fines should only be used as a last resort.
Some students in university halls have complained of heavy-handed policing as they face restrictions on their movements.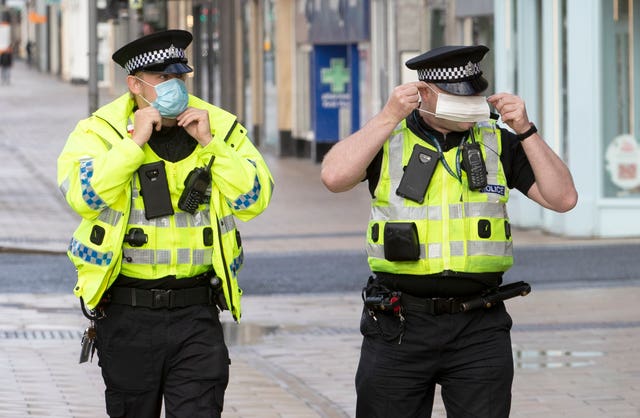 Mr Scott heads an independent advisory group looking into the use of temporary coronavirus-related powers. An interim report was submitted to the Scottish Police Authority (SPA), which met on Wednesday.
He said "urgency is no excuse" for confused messaging and called for regulations to be published well in advance of implementation.
The solicitor advocate said: "Much of what they (students) were being told seems to have proceeded on the basis that guidance was a regulatory requirement.
"Further confusion seems to have been caused by a blurring of the distinction between guidance, criminal law and university rules.
"Government and universities should have been much clearer in communications, explanation and support for young people and their families as opposed to causing confusion and worry."
Mr Scott said the situation was "highly unsatisfactory as well as, to an extent, avoidable" and detailed information should have been given to students before they moved into halls.
He continued: "The seemingly panicked response by government and universities involving 'bans' and threats about students not being able to go home, now or potentially even at Christmas, have caused unnecessary worry for many.
"The plight of students has evoked considerable sympathy from many, although also antipathy from some.
"The situation of students demands support and understanding, not enforcement and threat.
"As before, only egregious or repeated breaches of regulations should see police intervention."
Mr Scott's report also discussed the use of Covid-related fines more generally, contrasting the approach of the UK and Scottish governments.
He said "support should be increased before penalties" and increasing the level of fines, as has taken place in England, looked like "compounding an impossible situation".
Police Scotland's chief constable Iain Livingstone spoke at the SPA meeting, thanking students who had adhered to the rules.
He said: "I want to put on record my recognition of the resolve shown by students and young people who have responded so well at this crucial time in their lives."