Scotland has recorded three more coronavirus deaths in the past 24 hours, Nicola Sturgeon said as she warned the R number could now be as high as 1.7.
The R number represents the average number of people infected by each person with Covid-19.
The First Minister said the latest fatalities, of patients who first tested positive for the virus in the previous 28 days, take the overall death toll under this measure to 2,522.
Speaking at Holyrood, the First Minister also confirmed lockdown changes previously given an indicative date of October 5 will not go ahead due to rising infection rates.
She said 668 new coronavirus cases have been recorded in Scotland in the past 24 hours.
This is 10.8% of newly-tested individuals, up from 10.3% the previous day.
Greater Glasgow and Clyde accounts for 244 of these cases, with 166 in Lothian and 123 in Lanarkshire.
Ms Sturgeon said: "The estimate today confirms our view that the R number is currently above 1, and it is possibly as high as 1.7.
"That partly reflects the impact of the outbreaks we've seen in the past two weeks, including in student accommodation, but as a point of perspective it's also worth stressing that, because this estimate as the R number always does, relies on past data, it doesn't yet take any account of any impact of the new measures we announced last week."
Measures brought in last week include a national ban on household visits, apart from a limited range of exceptions.
She added: "We are postponing the routemap changes for which we had previously given an indicative date of October 5."
Those changes, which had already been delayed from an initial reopening date of September 14, impact adult access to indoor sports facilities, soft play areas, certain live events and sports stadiums.
The First Minister said: "I hope members will agree that it would not be sensible to ease restrictions that are still in place while infection rates are rising and we are working to bring them back down.
"We will review these restrictions again by October 15. However if we need to take further action before that to curb the spread of the virus, we will not hesitate to do so, but of course we will report that to Parliament."
Giving a further update on the daily coronavirus figures, Ms Sturgeon said 29,912 people have now tested positive in Scotland, up from 29,244 on Wednesday.
There are 154 people in hospital confirmed to have the virus, up by 15 in 24 hours.
Of these patients, 17 are in intensive care – up two from the previous day.
Responding to the further delay to the reopening of some sectors, Scottish Chambers of Commerce chief executive Liz Cameron said: "The guidance and rules on preventing the spread of the virus must be followed; we simply cannot afford further lockdowns or any further rolling 'circuit breaker' restrictions.
"The reality is that thousands of businesses are about to go under, particularly those operating soft play facilities and in our world-class culture and events sectors.
"These businesses are bitterly disappointed that breakouts that have not stemmed from their operations mean they now must remain closed for longer and potentially face ruin."
She also called for a plan to enable a safe return to offices for workers who want to go back to be acted upon before October 15.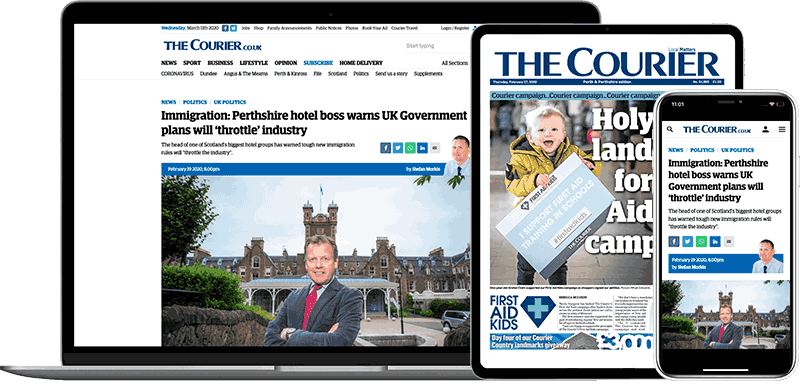 Help support quality local journalism … become a digital subscriber to The Courier
For as little as £5.99 a month you can access all of our content, including Premium articles.
Subscribe