The number of people killed on Scotland's roads increased last year although there were fewer casualties overall, figures show.
Finalised statistics for 2019 reveal 165 people were killed in reported road accidents, four more than in 2018.
There were 5,722 accidents in which someone was killed or injured, down from 6,423 the previous year.
Transport Scotland said there was a significant drop in the overall number of casualties, down by 9% between 2018 and 2019 from 8,424 to 7,638 – the lowest number since records began in 1950.
There were 763 child casualties in reported road accidents last year, an increase of 1% on 2018.
This included two fatalities, one fewer than in 2018, and 198 children who were seriously injured.
There were 1,250 pedestrian casualties last year, a 0.5% decrease on 2018, with pedestrians accounting for 16% of all road user casualties in 2019.
Of these, 486 were seriously injured and 44 were killed.
The number of cyclists killed increased from six in 2018 to 10 in 2019, while the number of motorcyclists who died fell by eight to 25.
Transport Secretary Michael Matheson said: "Sadly it remains the case that from this lower total number of casualties, more people have died on Scotland's roads.
"Whilst we are on track to exceed our reduction target for fatal collisions, this offers no comfort to the friends and family of those who have tragically lost their lives.
"In September, we began consulting on an ambitious road safety framework for the next decade. It sets out a compelling long-term vision for road safety, Vision Zero, where there are zero fatalities and injuries on Scotland's roads by 2050.
"We're also including ambitious interim targets where the number of people being killed or seriously injured on our roads will be halved by 2030.
"The development of the next framework does not mean we pause from taking decisive action to improve road safety.
"Earlier this year we identified new sites that will benefit from safety camera enforcement.
"Our investment of £675,000 will improve speed limit compliance, encourage better driver behaviour and reduce the numbers of people killed or seriously injured across the road network."
He said the Scottish Government has committed to spend more than £500 million over five years to help deliver infrastructure for walking and cycling across Scotland.
The figures also show car driver accident rates per head of population varied markedly by age and sex.
In 2019, the overall rate was 1.6 accidents per 1,000 people aged 17 and over.
The highest rate was for males in the 17-25 age group, with a rate of 2.5 per 1,000 in 2019 – nearly one-and-a-half times the rate of females of the same age of 1.9 per 1,000.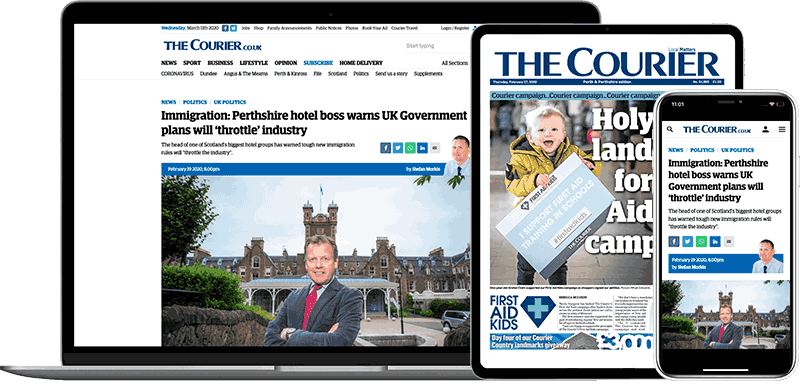 Help support quality local journalism … become a digital subscriber to The Courier
For as little as £5.99 a month you can access all of our content, including Premium articles.
Subscribe