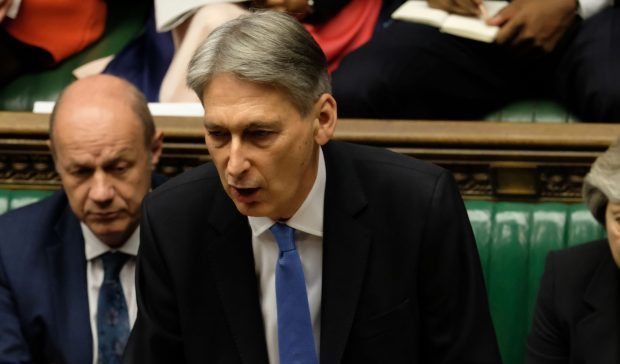 The Chancellor of the Exchequer has delivered his Autumn Budget statement.
Philip Hammond laid out his tax and spending plans amid a major squeeze on public finances, with independent forecasters downgrading UK growth.
He bowed to what he called pressure from Scottish Tory MPs to free Scotland's emergency services from paying VAT, which saves them £35m a year and puts them on a level playing field with other territorial forces in the UK.
Mr Hammond announced an extra £2bn spending power for the Scottish Government, which was immediately rubbished by the First Minister.
Nicola Sturgeon's early assessment of the Budget, which comes ahead of the Scottish version on December 14, is of "more smoke and mirrors than substance".
The SNP leader said day-to-day spending for Scotland 2018/19 has been cut by £239m by the Chancellor.
A mention was given to the Tay Cities Deal, which will unlock investment worth hundreds of millions for Dundee, Perthshire and North East Fife, but no firm spending commitments were made with the governments still locked in negotiations about which projects to fund.
"The government continues to make good progress towards a city deal for Stirling and is in negotiations for a Tay cities deal," Mr Hammond said.
The cash plans included raising the personal allowance from £11,500 to £11,850, which also takes effect in Scotland.
And Mr Hammond eased the tax burden for middle to higher earners by increasing the level at which workers start paying the 40p rate.
The Scottish Government, which has near total control of income tax, has said it will not follow suit.
Murdo Fraser, the Scottish Conservative MP, said: "People on modest incomes are set to be hit with higher taxes by the SNP, but following today's £2bn Union dividend these tax rises are unnecessary and should be ruled out".
Here are the main UK announcements:
1. £3 billion over the next two years for Brexit preparations
2. Office for Budget Responsibility revises down forecast for GDP to 1.5% in 2017, 1.4% in 2018, 1.3% in both 2019 and 2020, before picking back up to 1.5% in 2021 and 1.6% in 2022 In the spring budget the forecast for 2017 was 2%, with 1.6% in 2018, 1.7% in 2019 and 1.9% in 2020
3. A further £2.3 billion allocated for investment in research and development, and the main R&D tax credit increased to 12%
4. Investment of £500 million in a range of technological initiatives ranging from artificial intelligence, to 5G and full fibre broadband
5. Support for electric vehicles through the establishment of a new £400 million charging infrastructure fund, an extra £100 million in Plug-In-Car Grant, and £40 million for charging R&D
6. From April 2018, the first year vehicle excise duty rate for diesel cars that don't meet the latest standards will go up by one band, funding a new £220 million Clean Air Fund – but the hike in tax will not apply to vans
7. Government to investigate how the tax system and charges on single-use plastic items can reduce waste
8. A further £20 million to support further education colleges to prepare to deliver T-levels. Government to provide £40 million to train maths teachers. New £600 Maths Premium for schools, for every additional pupil who takes A level or Core maths
9. Number of trained computer science teachers to be tripled to 12,000
10. New partnership between Government, CBI and TUC to "set the strategic direction" for a National Retraining Scheme to boost digital skills and support expansion of the construction sector. Immediate investment of £30 million in the development of digital skills distance learning courses
11. National Living Wage to rise in April 2018 by 4.4%, from £7.50 an hour to £7.83
12. Reforms to Universal Credit to remove the seven-day waiting period so entitlement starts on the day of the claim and to ensure that any household needing an advance can access a full month's payment within five days of applying. Repayment period for advances to increase from six to 12 months
13. Income tax-free personal allowance to rise to £11,850 and higher rate threshold to £46,350 in April 2018, leaving the typical basic rate tax payer £1,075 a year better off compared to 2010. Holyrood now has responsibility for setting income tax rates.
14. Tobacco duty escalator to continue at inflation plus 2%, with an additional 1% duty on hand rolling tobacco this year. Legislation to increase duty on high-strength low-quality alcohol from 2019, but duties on other ciders, wines, spirits and on beer to be frozen
15. Short-haul Air Passenger Duty rates and long-haul economy rates to be frozen, paid for by an increase on Premium class tickets and on private jets
16. Cancellation of fuel duty rise for both petrol and diesel which had been scheduled for April
17. Additional commitment of £2.8 billion to the NHS in England, £350 million to be provided immediately to allow trusts to plan for this winter. and £1.6 billion in 2018/19, with the balance in 2019/20. This will lead to extra health funding for Scotland.
18. Income tax to be applied from April 2019 on digital economy royalties relating to UK sales which are paid to a low-tax jurisdiction, raising about £200 million a year
19. Kensington and Chelsea Council to be provided with a further £28 million for mental health services and regeneration support for the area around Grenfell Tower. The Government "will not let financial constraints get in the way of essential safety work" on tower blocks elsewhere in the country
20. At least £44 billion of capital funding, loans and guarantees over five years to support house-building and deliver 300,000 new homes a year
21: Cash for house-building will include a £630 million small sites fund; some £2.7 billion to more than double the Housing Infrastructure Fund; £400 million for estate regeneration; a £1.1 billion fund to unlock strategic sites; £8 billion of new financial guarantees to support private house-building; and an additional £34 million to develop construction skills. Target of building 300,000 homes annually to be met "by the mid-2020s"
22. Abolition of stamp duty for all first-time buyer home purchases up to £300,000