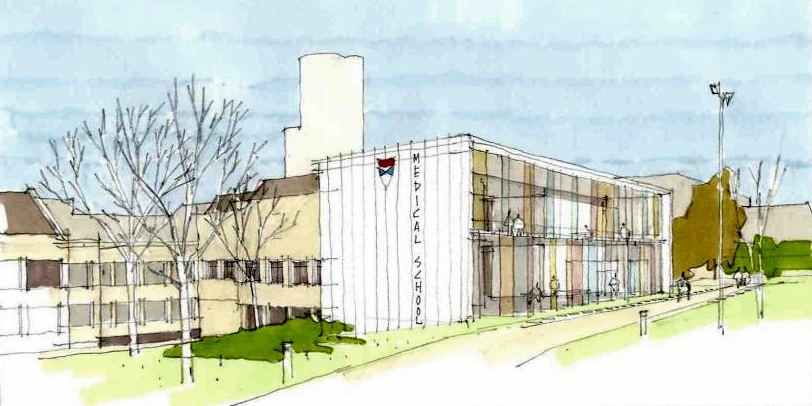 Dundee University's medical school has launched a fund-raising drive to complete an £11.2 million transformation of the Ninewells Hospital site.
The plans to open up and expand windowless buildings will make the medical school a prominent feature visible to all approaching the hospital's main entrance.
Dean Professor John Connell said the present buildings were now approaching 50 years old and were showing signs of age.
The environment did not match the quality of education available to students at Dundee and he and colleagues were keen to change that.
Dundee is recognised as a leading provider of medical education and is consistently in the top six medical schools in the UK.
Professor Connell said, "Other medical schools have invested in their buildings over recent years and, while we are consistently amongst the leaders in terms of quality of education, the fabric is now less well provided compared to other medical schools.
He said some parts of the medical school had already been made more light and airy by opening up blank walls and putting in windows.
New small seminar rooms had been created in addition to an expansion of the clinical skills teaching area where a replica ward was fitted with cameras and recording equipment.
That area is being used to train not only future doctors but to maintain the skills and professional development of doctors and nurses working in hospitals and the community.
The next phase of the project will see a major extension to create a modern library to suppport IT and e-learning approaches that will be key to the delivery of medical education in the 21st century.
"What we are going to do is build out the front of the existing building, push it out about another 50 metres and put an all-glass front on it," said Professor Connell.
A further phase of the project would see a complete refurbishment of all three lecture theatres, which have had very little attention since they were built in 1974.
The projected completion date of all the work is 2014, but the work will only go ahead as and when funding is secure.
Professor Connell said the total cost of the project is £11.2 million but the medical school has already raised 60% of the funding required.
"We are left with a £4.5 million funding gap and the challenge is how do we bridge that gap," said Professor Connell.
He said the medical school had a long-standing and positive relationship with the local community.
"Over the next few months we will be going out to major donors and asking them to get involved," he added.
"We will be making applications to a number of local and national charitable trusts and foundations and approaching Rotary clubs and other organisations we hope will support us.
"Full realisation of these plans will provide the University of Dundee with high-quality and modern teaching accommodation that will allow us to enhance and maintain our reputation as a leading UK medical school."