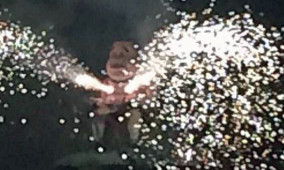 No crime was committed when an effigy of First Minister Alex Salmond was blown up in Lewes on Bonfire Night, the Crown Prosecution Service has decided.
Two effigies of Mr Salmond were created for November 5. Plans to burn one were dropped following a public outcry but a second effigy was later blown up.
Sussex Police received a number of complaints that the effigies were racist towards Scots but the Crown Prosecution Service has decided that no crime took place.
A statement issued by the Force said: "Sussex Police received a number of complaints about the portrayal of former Scottish First Minister Alex Salmond as an effigy at the 2014 Lewes bonfire event.
"Sussex Police has since presented the complaints to the Crown Prosecution Service and it has been identified that no criminal offence occurred.
"Effigies have long been a tradition at the annual event, with high-profile politicians and celebrities who have recently been in the news being featured in bonfire society processions.
"The event organisers have made it clear that there was no intention to cause insult to anyone or any particular country by the choice of effigy: simply that the person chosen has been a popular media figure in the preceding 12 months."
Previous public figures burned in effigy at Lewes include David Cameron, Nick Clegg and Osama Bin Laden.