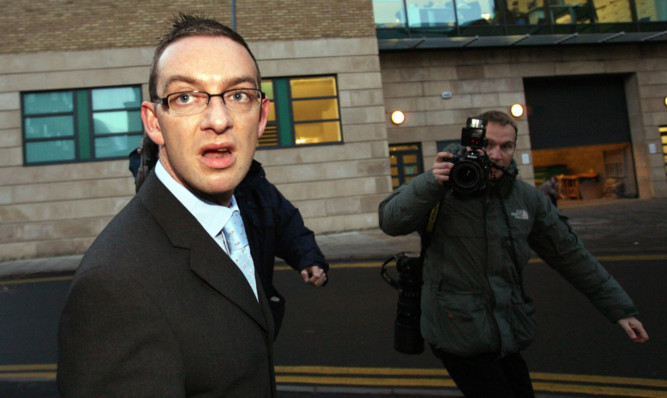 The foreman of a jury that convicted Angel of Death nurse Colin Norris now says he believes the convicted murderer is innocent.
Norris, who trained in Dundee, was jailed for 30 years in 2008 for the murder of four women and the attempted murder of another while working in Leeds.
Norris is said to have injected all five of his victims with massive doses of insulin.
The prosecution argued that a cluster of cases such as occurred in Leeds could not happen naturally.
Jury foreman Paul Moffitt's comments follow a BBC Panorama investigation that suggested the women may have died of natural causes.
Mr Moffitt, 36, said: "If this case was presented with this new evidence today, I don't even know how it could possibly get to court in the first place,"
Norris was found guilty of murdering Doris Ludlam, 80, Bridget Bourke, 88, Irene Crookes, 79, and 86-year-old Ethel Hall.
He was also convicted of the attempted murder 90-year-old Vera Wilby.
Norris passed evidence in 2012 to the Criminal Cases Review Commission (CCRC), which showed that naturally occurring hypoglycaemia is far more common than first thought.
Norris has always protested his innocence and denied injecting patients with insulin.
His case had been the focus of campaigners who fear a miscarriage of justice and is currently under review by the CCRC.
Mr Moffitt added that overturning the convictions would result in the case being known as one of the "biggest ever" miscarriages of justice in British legal history.
Mr Moffit, who said his message to Mr Norris would be "justice will come your way", added: "I don't think there's ever been a case where there's been a serial killer who's had his conviction quashed."
"I'd like to see Colin Norris freed.
"That's why I came forward, put my name forward, I just felt it would be my duty to do that."
If the evidence is deemed to cast doubt on Norris's conviction then his case will be passed to the Court of Appeal for reconsideration.
Norris has already had an appeal rejected in 2009.
Last year, a fundraising concert for Norris was held in Dundee, an event criticised by a local pensioners group.