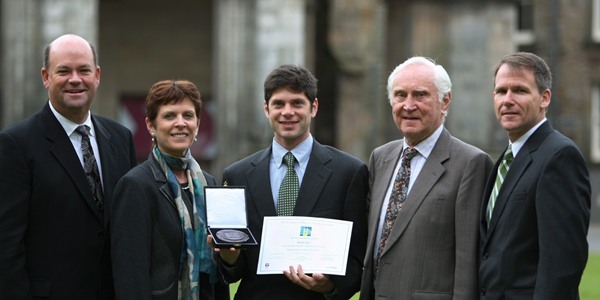 A stove that could revolutionise the way hundreds of millions of people do their cooking has scooped the St Andrews Prize for the Environment.
BioLite took the top $75,000 award to the delight of inventor Jonathan den Hartog and a panel of judges who insisted it could "make the world a better place."
Over three billion people cook on smoky, inefficient fires fulled by wood and other renewable solid biomass.
It is estimated that up to 500 million households who rely on such fires are depleting natural forest resources as a result.
They are also causing millions of tonnes of greenhouse gases to be released into the atmosphere in the forms of carbon dioxide, methane, nitrous oxide and black carbon.
As well as the environmental impact there is a human cost, with estimates suggesting the toxic gases released into homes using such inefficient cooking methods kill 1.6 million people every year.
Judges believe that BioLite could end that. A spokesman said, "The innovative cookstove provides improved air quality and a clean economic source of electricity inside the home.
"Solid biomass fires, used by almost half the global population, are inefficient and among the most greenhouse-intensive systems in the world per unit of energy delivered.Cook/charge"Clean energy company BioLite has developed a cookstove that slashes emissions by up to 95% and also provides electricity for charging LED lights, mobile phones and other devices used in rural areas where open fires are prevalent."
Mr der Hartog celebrated at a ceremony at St Andrews University. He said, "I am delighted with this win. It will enable us to further develop our programme by funding capital costs, hardware and administration expenses."
The prize attracts scholars of international repute, and prize trustee chairman Sir Crispin Tickell said that this year had been no exception.
He said, "The prize is going from strength to strength. It is now in its 13th year and we are delighted that is has become so well established and continues to attract such a range of innovative projects from all over the world."
"We are looking for entrepreneurs on behalf of the environment applicants able to champion original and innovative environmental ideas which are realistic and realisable and which take account of social and economic implications."
This year's runners-up, each presented with a cheque for $25,000, were:Project Meshanani, which aims to re-establish the ecological balance in the desert area around the Amboseli National Park in Kenya, providing a sustainable, habitable environment with a positive economic outlook for the local Masai Coconut Oil, which develops a hydraulic press doubling the amount of oil which can be extracted from coconuts significantly increasing the income of the people of the Nicobar Islands in the Bay of Bengal, just north of Sumatra.University principal and vice-chancellor Professor Louise Richardson was delighted by the standard of entries.
She said, "For centuries this university has educated young people motivated by a desire to improve the world around them.
"Today, we are proud to be at the cutting edge of the field of sustainability and environmental studies and to support, through the St Andrews Prize, the current generation of creative thinkers designing solutions to today's problems."
The competition is run with ConocoPhillips, one of the world's largest energy companies with operations in more than 30 countries.
UK and Africa president Paul Warwick said, "Recognising innovative ideas that will help protect our environment and improve the lives of our fellow citizens through the St Andrews Prize for the Environment allows us to reward outstanding and environmentally conscious individuals and groups who help make the world a better place."
Since 1998 the prize has attracted entries on topics as diverse as sustainable development in the Amazon and Central American rainforests, urban regeneration, recycling, health and water issues and renewable energy.