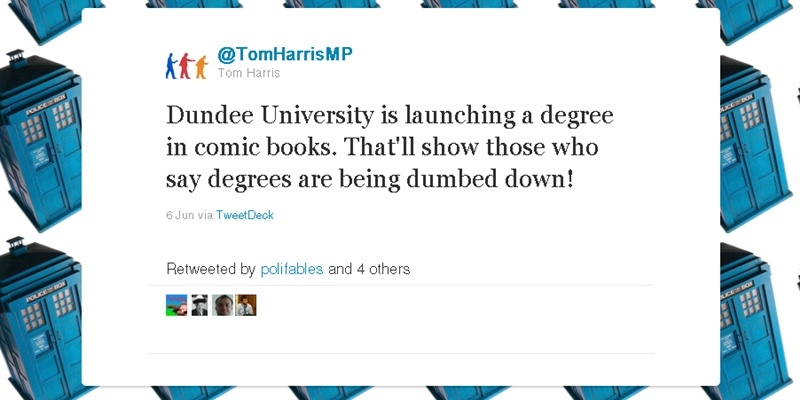 A Glasgow MP has been criticised after accusing Dundee University of "dumbing down" by pioneering a postgraduate degree in comic book studies.
Glasgow South Labour MP Tom Harris made the comment on Twitter, provoking a storm of online criticism.
The year-long course, run by Dundee University's English department, was launched this week. The university called Dundee the "spiritual home" of British comics thanks to titles produced by DC Thomson such as The Beano, The Dandy, Bunty and Commando.
However, Mr Harris posted a sarcastic comment on Monday night stating, "Dundee University is launching a degree in comic books. That'll show those who say degrees are being dumbed down!"
Several other Twitter users challenged Mr Harris and he responded by posting, "Wait for the cries of outrage when people realise that a MA in the Dandy is considered less valuable than PPE from Oxford."
He later added he was "looking forward to Sheffield University doing a degree in forks."
The dispute rumbled on throughout the day and Mr Harris continued posting comments disparaging the course.
One post in the afternoon stated, "Coming soon to a university near you: a BSc in Battlestar Galactica comparisons of the original v the reboot. Nine grand a year."
Dundee East MP Stewart Hosie said, "This masters degree in comic book studies is a first-class idea. Comic books are a global industry. I think Tom Harris is talking Dundee down and it ill-behoves a Glasgow Labour MP to be critical of an innovative idea from a Dundee university."
He said the success of Glasgow comics writer Mark Millar, whose work inspired the hit movies Wanted and Kick-Ass, as well as the purchase of comics company Marvel by Disney for $4 billion in 2009, demonstrate the economic value of the industry.
"It just goes to show that what one may consider to be a humble comic can go on to be a blockbuster," said Mr Hosie, who added that comic book design and writing links well with other creative industries in Dundee such as video games.
Comic studies course director Dr Chris Murray was one of those who took to Twitter to respond to Mr Harris' comments.
He said, "Worldwide, comics and graphic novels have never been so popular and are widely read by both children and adults. Far from being the preserve of children, comics represent a multi-million-pound, global industry and it is our intention that our graduates are at the forefront of this.
"While we are proud of Dundee's contribution to the comics industry, the much-loved publications Mr Harris so derisively refers to will not actually feature on the course. We will be examining critically acclaimed comics such as Maus, which deals with the Holocaust, and works by Glasgow's Grant Morrison, one of the most celebrated graphic novel writers in the world.
"Comics and graphic novels are increasingly sophisticated and are studied both for their artistic merit and their literary value. They are an increasingly important medium in terms of popular culture, as shown by the number of comics and graphic novels adapted into hugely popular films, TV shows and computer games in recent years.
"Students will be required to think critically about complex ideas, examine comics from around the world and develop an understanding of them in the context of theory, politics and history, as they would in any other field of literary study."
One of Mr Harris' constituents, former Dundee man Dave Lunan, said, "He seems to have his priorities all wrong.
"I would like to know why my well-paid elected representative is spending so much time arguing on Twitter when he should be concerned with the real issues facing his constituency and the country."