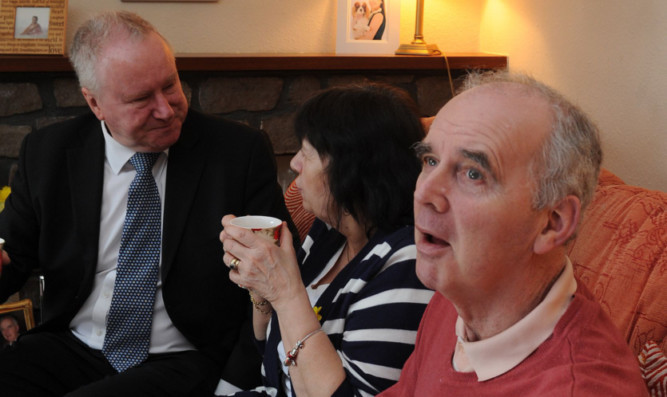 Nicola Sturgeon will look "supportively and sympathetically" at any proposals to improve care for people with dementia.
However, the former Cabinet Secretary for Health has refused to offer any guarantee of implementing "Frank's Law" the roll-out of free personal care to under-65s with debilitating illnesses.
Dundee United legend Frank Kopel died in April having been diagnosed with vascular dementia and Alzheimer's six years ago, when aged just 59.
His wife Amanda has fought for free care to be extended to under-65s with dementia for many years and Mr Neil visited the couple at their Kirriemuir home just weeks before Frank's death.
A joint review by the Scottish Government and Cosla is under way into the issue and is expected to be completed early next year.
In an interview with The Courier, Ms Sturgeon said she did not want "to pre-empt the review" but she pledged to take "a very close personal interest" in how policy is formed on the back of the review.
She said: "We are leading the way in terms of diagnosis, etc. but there is a whole plethora of issues around how we care for people with dementia, how we better support people who care for people with dementia.
"So I am very, very keen to look supportively and sympathetically at any suggestion about how we make life easier for people with dementia and the people and families and the care networks that they have.
"That is not giving a commitment at this stage over the particular proposals that have been made by the Kopel family.
"We have recently also issued guidance about care charges for people in the last six months of a terminal illness and made it clear they should not face care charges.
"That is an indication this is an area where we are aware of some of the issues so I am keen to see what that review has to say."