Queues formed outside hairdressers as people across Scotland headed for their first professional cut since the coronavirus lockdown.
Rainbow Room International in Glasgow's George Square was among the salons reopening their doors on Wednesday after being closed for almost four months.
One of the first customers was physiotherapist Norma Goodfellow, 65, from Stepps, North Lanarkshire, who came prepared with her own mask and had her temperature checked at the door.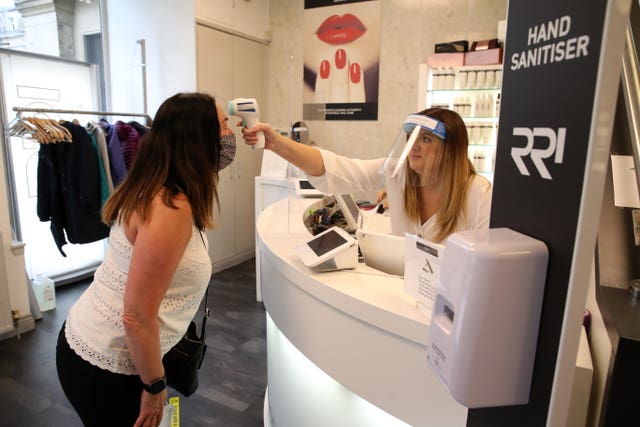 She said: "I feel great, I can't wait to get my hair done, it's well overdue.
"I didn't know how it was going to work when I heard Rainbow Rooms was actually opening back up again but what happened was the hairdressers phoned all their own clients and they offered us appointments so I was absolutely delighted.
"We've been kept well informed all along through email and Instagram so we kind of knew what to expect and it's been a nice, smooth process."
Speaking about the extra precautions in place such as social distancing, masks and temperature checks, she added: "I feel really comfortable. I work in a hospital and you're always a bit wary when you go into anywhere just in case, but in actual fact it's all worked out really well.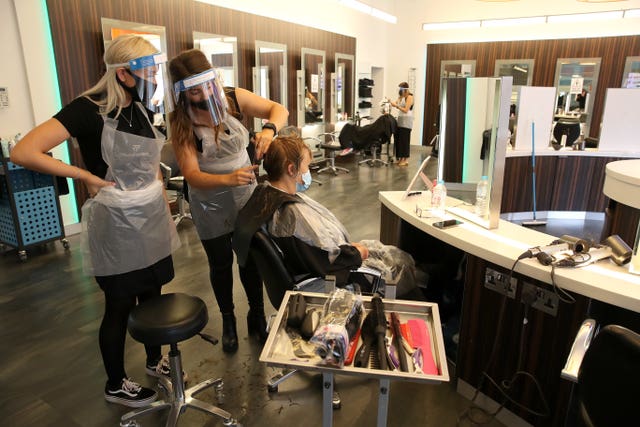 "They've got all the sanitation stations here for hand washing and they take your temperature to make sure you're alright before you come in and I've obviously come in with my mask.
"It's been absolutely great and it's been social distanced and I feel completely safe."
Patricia McDougall, 64, from Stonehouse in South Lanarkshire, said her hair is "at its worst", as she arrived for her appointment.
"My fringe is that long it was time it was done but I didn't want to attempt it myself," she said.
"I'm just getting my usual. It's really good to be back. The staff here are really friendly and you miss their faces as well.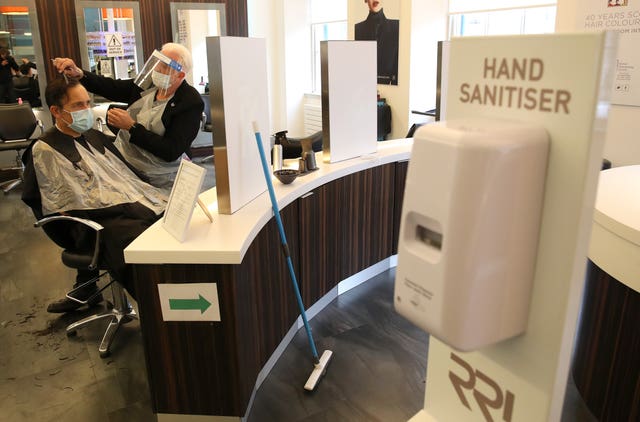 "I was expecting the coverings – they've got to keep themselves safe and their customers safe. I think this will be the new normal for quite a long time."
Salon director David Nicolson said capacity has been cut by around 40% to comply with Government guidance on preventing the spread of Covid-19.
Staff are wearing masks, visors and disposable aprons and the number of customers and stylists are limited on each floor to ensure social distancing.
Signs are in place to help with compliance and each area is cleaned between customers.
Mr Nicolson said: "Customers are reassured by everything in place. We contacted all our regular clients before we opened our online booking and people were delighted and happy to be back in.
"We're fully booked up to August 10 but there will be clients who cancel."
Elsewhere in Glasgow, Scottish Labour leader Richard Leonard was one of the first through the doors at Scrimshaws and Co for a trim.
Mr Leonard arrived at 9.20am for his first post-lockdown cut from barber Billy McIntyre.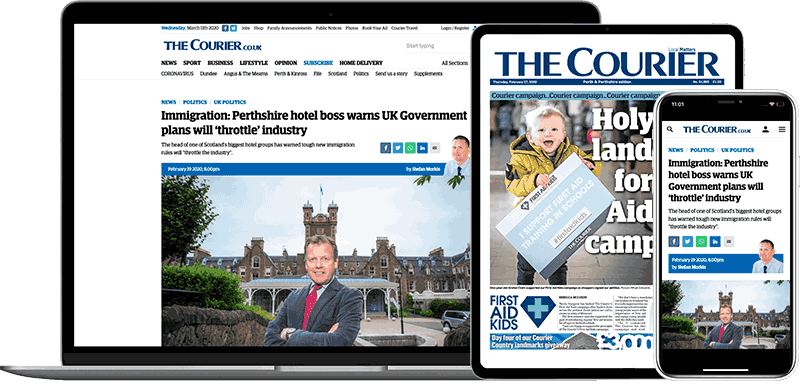 Help support quality local journalism … become a digital subscriber to The Courier
For as little as £5.99 a month you can access all of our content, including Premium articles.
Subscribe