Skye is "highly vulnerable" to the downturn in international visitors amid the coronavirus pandemic, a report has warned as it revealed tourism generated £211 million for the island last year.
The study found 72.7% of tourists travelling to Skye in 2019 were international visitors, with the major markets including the United States, Germany, France and Australia.
The research, carried out by the Moffat Centre for Travel and Tourism at Glasgow Caledonian University, found Skye and neighbouring Raasay attracted 650,000 visitors last year and tourism supported 2,849 jobs.
Professor John Lennon, director of the Moffat Centre, said: "This is an important report for Skye as the Scottish tourism industry begins a slow recovery from the Covid-19 impacts, which have decimated trade for more than 50% of the 2020 tourist season.
"Skye is highly vulnerable to the downturn in international visitors that will continue for much of 2020 and beyond.
"Restrictions on access and reduction in air connectivity will impact on visitation.
"The island does benefit from direct road access which will hopefully help catalyse greater domestic visitation – which is likely to characterise visitation for the remainder of the year."
But the report said there is now potential to build a different approach to tourism, developed around a more sustainable approach to island destinations, in consultation with the community and local authority.
Alongside the economic impact assessment, the Moffat Centre also carried out an extensive survey of visitors throughout 2019.
It highlighted overwhelming satisfaction with the quality of accommodation, food and visitor attractions, however concerns were raised about road conditions, a lack of public toilets and environmental erosion.
Alistair Danter, of tourism body SkyeConnect which commissioned the research, said: "The Moffat report demonstrates the value and importance of tourism to Skye.
"We know we will take a long time to recover from the Covid-19 lockdown but as we emerge from the darkest period in our industry's history, we know the potential of tourism in Skye. We must take this data and use it to lobby for the infrastructure investment Skye so desperately needs.
"We need to reset and reshape tourism for the new world and encourage a more sustainable approach that provides visitors with an immersive experience while ensuring that the island and its communities see the benefits of a tourism economy."
Skye councillor John Finlayson said: "The impact on the tourism industry and the economy of Skye from Covid-19 is huge and every community on the island has been impacted as every community on the island has part of its economy dependent on tourism.
"We must now look to the future and just as was happening before lockdown, Skye members will be working with the Highland Council, Scottish Government, Highlands and Islands Enterprise and other public agencies to develop infrastructure projects.
"Over the last two years we have seen substantial joint investment in projects at key tourism sites and we must keep this momentum going, while also looking to invest in core areas like roads, toilets and campervan facilities."
MP for Skye Ian Blackford said: "I welcome this report which gives clarity on the importance of Skye's tourism industry to the local economy.
"It's important we extend a warm welcome as the island opens up again to tourists, and while the number of international visitors is expected to be lower I don't doubt our domestic visitors will see all that Skye has to offer as a holiday destination.
"The Covid-19 pandemic shows that we must ensure there is more balance to Skye's economy to ensure people can continue to live on the island and work in a range of industries."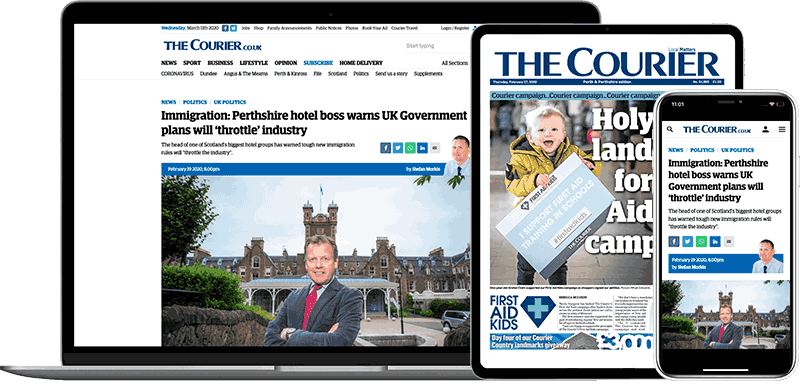 Help support quality local journalism … become a digital subscriber to The Courier
For as little as £5.99 a month you can access all of our content, including Premium articles.
Subscribe