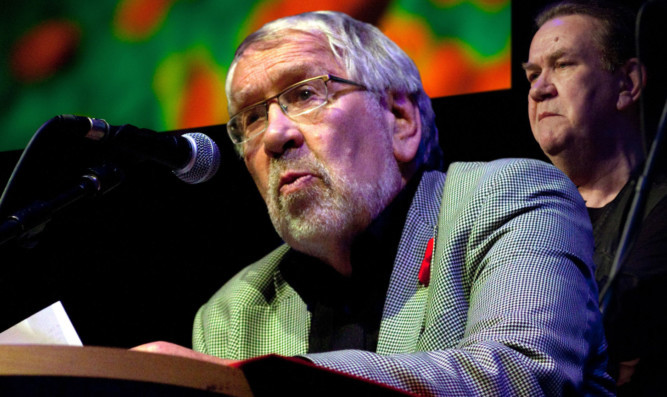 Far, Far from Ypres, a performance of poetry and song to mark the centenary of the First World War, is also a personal pilgrimage for narrator and BBC radio presenter Iain Anderson, as he told Helen Brown.
It could have happened to anyone. And appallingly frequently, it did. Soldiers from all airts and pairts, all walks of life, faced the horrors and hopes of war in its most visceral form, nowhere more so than on the frontline battlefields of Europe. It changed their lives and changed the world, yet many of these soldiers were ordinary lads, boys and men who could have and did come from anywhere. That's why, at the centre of Far, Far from Ypres, an evening of words and music dedicated to all the troops who fought and died, suffered and survived, the hero is a young Scottish soldier called Jimmy MacDonald, who could have been born "in any village in Scotland" and whose journey to the Somme and back is highlighted by a cast including legendary singers Dick Gaughan and Barbara Dickson.
Conceived by musician Ian McCalman, the show started life as a Greentrax CD recording. A live performance played to a standing ovation at Celtic Connections in 2012 and it is now touring, arriving at Perth Concert Hall on August 30.
Narrator Iain Anderson was involved from the start, reading poems for the original recording. He was brought up on stories told by his father, Private Jock Anderson of the Lovat Scouts who served at Gallipoli and North Africa.
Jock was born and bred on the edge of Perthshire, at Kilmahog near Loch Lubnaig. He followed the career of gamekeeper and stalker on the Arran estates and it was the familiarity of such men with firearms and shooting that took them into elite regiments like the Scouts as marksmen and snipers.
"They were known as grassmen because they were used to looking through grass for deer, then enemy soldiers. Initially they were all volunteers," Iain explained. "Conscription didn't come in until 1916. At the start it was all very much 'Off we jolly well go' and 'It'll all be over by Christmas' and many like dad signed up en bloc with their pals. I think a lot of Heart of Midlothian football team signed up together and many were actually killed in action."
Iain's father's stories were, however, very much the selected highlights of his experiences, rather than the nitty gritty. "He never talked about shooting a member of the opposition but he did talk a lot about the ridiculous circumstances, the stupidity of the top brass, the quirks. The Lovat Scouts, for example, were a cavalry regiment and Gallipoli was totally unsuited for that.
"Later he fought in North Africa, describing the Pyramids and Luxor and learning to ride a camel with the Australian Camel Corps. He was bitten by a camel and thought them thoroughly unpleasant creatures. And interestingly, I remember my mum making curries long before they were fashionable, so presumably dad and his mates who had served in India brought back the idea."
One story Iain didn't hear however, was how his father got out of Gallipoli. "I knew nothing about it," he explained. "And it turned out that he was so ill that he might not have remembered much of it himself. Many years after my father's death I heard a radio programme about Gallipoli with soldiers' reminiscences, one of whom was an old comrade of his, Murdo MacLennan from Benbecula, then living in Milngavie. I basically looked up all the MacLennans in the phone book and his was the first number I tried."
Iain learned that his father, struck down with dysentery as many Allied troops were, was taken by Murdo to a hospital ship about to leave hostile waters, literally carrying his friend over his shoulder.
The sergeant in charge refused to take him until he spotted the Lovat Scout cap badge he collected these things and the Scouts were a very small, elite regiment. The cap badge was duly handed over and Jock was taken to Egypt where he recovered.
He went on to fight in the Libyan desert against Senussi tribesmen and in an amazing coincidence, met up with his future brother-in-law Jack Barbour, another gamekeeper from Brodick in a ruined cinema in Germany.
They had never coincided during the conflict but ended up in the same row, watching a flickering newsreel as the British forces moved into the country.
With these personal links to a tumultuous and touching past, Iain has no hesitation in describing Far, Far from Ypres as a highlight of his long and successful career.
"All the shows we've done so far have had the same thing in common a terrific emotional response, with the audience joining in with the singing, openly weeping and laughing. Soldiers of time sang a lot think of Harry Lauder's Keep Right on to the End of the Road and Tipperary. We tell the story of how that was written basically as the result of a bet, a 24-hour challenge to put a song together.
"The poignancy of a poem like Violet Jacob's Hallowe'en, about losing her son, affects everyone. But there's also black humour and resilience.
"Men fought unquestioningly for their country but also created things like the Wipers Times (a satirical trench magazine) and were under no illusions about what was going on round about them.
"All human life was there, from the great well of tragedy to the highest of spirits. If we can show that deeper understanding, we've got it right."
Far, Far from Ypres is at Perth Concert Hall on Saturday August 30 at 7.30pm.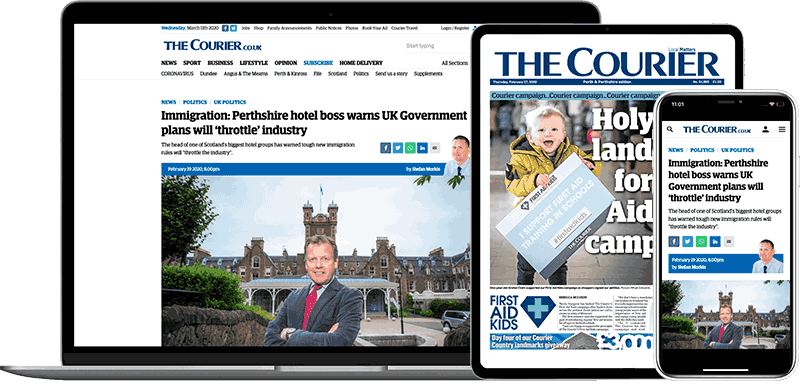 Help support quality local journalism … become a digital subscriber to The Courier
For as little as £5.99 a month you can access all of our content, including Premium articles.
Subscribe