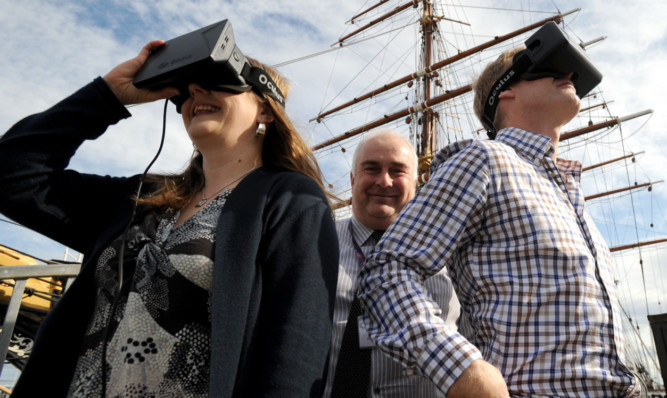 Captain Scott's ship Discovery is again at the forefront of science, as a project to create a 3D virtual reality tour of her is unveiled, writes Jacqueline Wake Young.
"The trust reposed in me may be justified by my conduct of the enterprise and by my earnest wish to further its great scientific aims," said Captain Scott of the Discovery's voyage to the South Pole.
When she set out from Dundee on March 21 1901, the scientists aboard her were pioneers in every sense. They carried state-of-the-art equipment and were breaking the frontiers of exploration at the time, travelling to the Antarctic was the modern-day equivalent of going into outer space.
How fitting it is, then, that more than 100 years later, Discovery is again at the forefront of a technological breakthrough, as she steers a passage that will further another scientific aim.
Now, as then, she carries an intrepid crew of trailblazers, equipped with cutting-edge kit and a mission to put fresh footsteps in virgin snow.
Yesterday at the city's Discovery Point, Dundee Heritage Trust took the wraps off its innovative project to bring Captain Scott's vessel to life in 3D, which is being made possible by the work of Newcastle-based company Digital Surveys.
What started as a conservation project has grown arms and legs and is being developed as a 3D virtual reality tour, that will break new ground in terms of access for all.
The trust commissioned Digital Surveys to capture a 3D laser scan of Discovery and create a model which could be used to assess her condition and monitor any changes in the future.
The entire ship was mapped by creating a "point cloud" comprising millions of "xyz" coordinates. The resulting data is in the form of text, like computer code. So far, so not very exciting.
However, when data from a 360 degree panoramic camera is integrated with the "point cloud" data, a thing of beauty emerges: a 3D "ghostly image" of Discovery that depicts her every inch, from cabins to crow's nest.
At this point, the Digital Surveys team were inspired to move the project on to another level into the gaming technology arena and capitalise on the emergence of a new generation in virtual reality headsets.
In something of a eureka moment, the team saw the potential to do something brand new: to drop real data into a gaming design software Unreal4 Games Engine and create a replica virtual environment.
Ben Bennett, of Digital Surveys, explains: "You couldn't get this level of realism and accuracy if you hadn't used laser scanning, which uses actual measurements and feels like you're in the real place. The difference is, in gaming, it's a fantasy, a made-up environment. This way creating a realistic representation of a real thing is much harder.
"There are four of us working on it and after having the idea, it took us a few months to work out how to do it and then another four months working on it."
The team have completed a virtual tour of the wardroom and some of the cabins but the aim is to do the whole ship.
That means development, which needs further funding but it's something that "deserves to be developed", says Mark Munsie, the trust's operations director, whose passion for the project and Discovery herself is clear.
"I'm responsible for looking after her and it's a passion and a privilege," he says. "Discovery gets under your skin."
Mark's dream is for Discovery to be accessible to all, no matter what their physical ability or geographical location.
"The primary aim was to create a detailed and highly accurate record of Discovery's structure to provide a baseline for future conservation planning," says Mark.
"It has indeed provided this invaluable information but the results in terms of photo-realistic models and animations have amazed and excited us all about the interpretation and public access possibilities. Now we also have cutting-edge virtual reality technology coming to Captain Scott's historic ship, which is incredible.
"The prospect of people at home all over the world being able to explore the ship in 3D is very exciting. It also opens up the visitor experience to people with disabilities, who would otherwise be unable to climb up to the bridge, or go below decks."
The project was funded through the Scottish Government's Recognition Fund, awarded by Museum Galleries Scotland, who may be approached again to help with the further £50,000 to take the project forward.
The trust is also looking at a more "rock and roll" route to raising cash, that of "crowd-funding", which is fitting because that's what gave momentum to the new generation headsets, described as "the most hyped technology development of the decade".
Facebook would almost certainly agree, as it's just shelled out £2 billion for the company which developed the game-changing Oculus Rift headsets. Sony has its own version in development, with Project Morpheus and other companies also on the case.
The headsets are low-latency, meaning when you turn your head, the image catches up quickly something lacking in previous incarnations. They eliminate blur and can accurately map real-world head movements.
So, as this technology enters the mainstream, users will be looking for content and that's where the Discovery project comes in.
Ben explains: "There is some content out there games and roller coaster rides but this isn't just about the games sector, this could have implications for travel and tourism, heritage and it may even have medical applications."
This is uncharted territory and, as with Scott's expedition, discoveries are not just being made at the destination but all along the journey.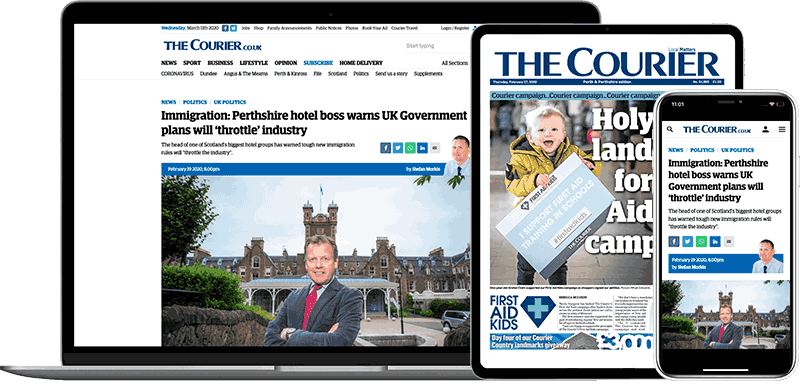 Help support quality local journalism … become a digital subscriber to The Courier
For as little as £5.99 a month you can access all of our content, including Premium articles.
Subscribe