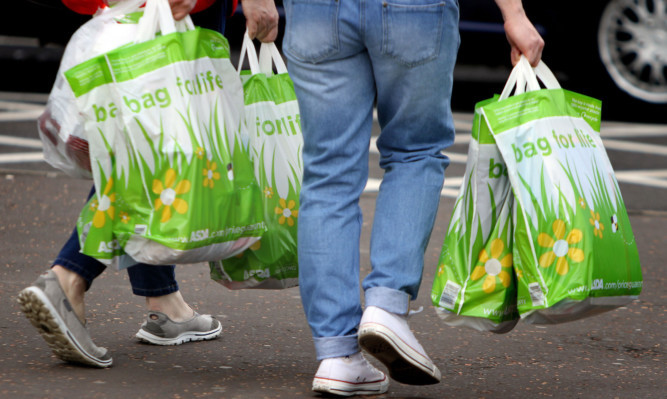 Carrier bag use in Scotland went down by almost 150 million last year, according to new figures from major retailers.
The drop came after a charge on single-use carrier bags was introduced in October.
Figures from environmental organisation WRAP show that bag usage dropped to 64.4 million in the final three months of 2014, compared with 193.5 million in the same period of the previous year.
Bag usage dropped by 147 million overall.
The WRAP survey includes figures from seven retailers, including major supermarkets.
Scottish shoppers must now pay a minimum of 5p for each new single-use carrier bag after legislation was passed by the Scottish Parliament.
Many retailers have also agreed to give any proceeds to good causes.
Environment Secretary Richard Lochhead said: "These astounding figures – a reduction of 147 million – are yet another indication that the single-use carrier bag charge has been a tremendous success, driving behaviour change to reduce litter across our beautiful country and also the amount of resources we, as a nation, consume.
"Litter is a blight on our environment and I'm delighted with the reports we've received from these retailers.
"I'm pleased that so many consumers are now in the habit of reusing bags and the level of support from the Scottish public is extremely heartening.
"Previously, statistics showed that people in Scotland used more than 800 million new single-use carrier bags every year – more per head of population than anywhere else in the UK.
"Scotland is serious about tackling litter, reducing waste and creating a cleaner, greener environment for everyone to enjoy.
"I hope the public will continue to embrace re-using their bags and that even more retailers will sign up to donate money to good causes when it has been necessary for people to take a bag.
"These figures also demonstrate how small changes can make a big difference and as Scotland moves towards a more circular economy, I hope that it inspires people to think about what other actions they can take to reduce the amount of resources that they throw away."
WWF Scotland director Lang Banks said: "It's fantastic to learn that carrier bag usage in Scotland has dropped so spectacularly since the 5p charge was introduced.
"The clear success of this initiative should encourage ministers to press on with other bold ideas to help make Scotland a zero-waste nation."