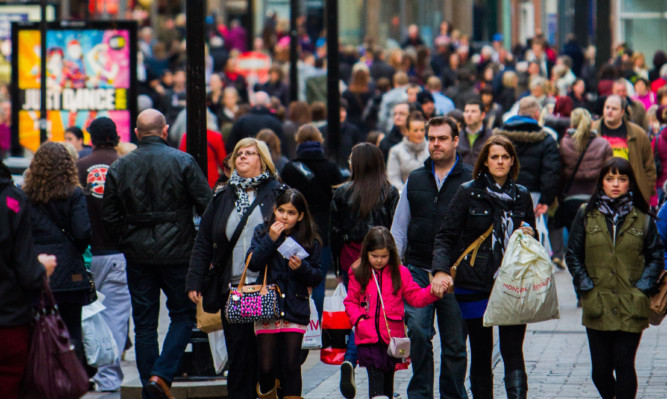 Retailers in Scotland continue to be challenged by weak consumer demand and rising costs, latest figures show.
Footfall was down 1.5% in August compared to a year ago, although retail parks saw an increase in shoppers.
The figures were published in the monthly SRC-Springboard Footfall Monitor.
David Lonsdale, director of the Scottish Retail Consortium, said: "Footfall in Scotland's retail destinations eased down once again in August, albeit at a slower pace than witnessed over recent months.
"The performance was better than the three-month average, and ought to be seen in the context of a tough comparable during the same period last year.
"What is clear is that weak demand coupled with rising cost pressures is making life challenging for a number of retailers, many of which are revamping their businesses in order to respond to the profound changes in the way we are all shopping."
Across the whole of the UK, August footfall was 1.6% lower than a year ago, down from a 1.1% fall in July.
Diane Wehrle, marketing director at Springboard, said: "Footfall in retail parks in Scotland continued its inexorable rise, with an increase of 8% in August.
"Retail parks in Scotland are significantly outperforming the UK average, with a continuous increase over the past 17 months and an average uplift of 7.6% in 2015 compared with 2% across the UK.
"The significant and long-term pressure on high streets and shopping centres in Scotland continued in August, with drops in footfall of 3.6% and 4.9%, continuing a four month downward trend in high streets and a 12 month downward trend in shopping centres."