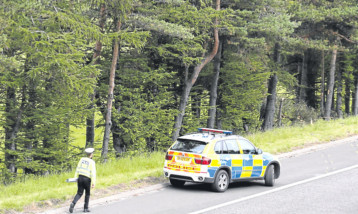 The officer who took the initial call about Lamara Bell and John Yuill's crashed car wrote details on a piece of paper because he could not work Police Scotland's computer system, it has been claimed.
Multiple senior sources within Police Scotland have said the sergeant was drafted in because of a shortage of civilian police staff, a controversial practice known as "backfilling".
It is understood the officer was not trained to use the updated version of the single force's Storm recording system, which logs calls and incidents as they are reported.
Insiders said he wrote down the details and tried to give them to a civilian worker but it is unclear why they were never entered into a computer.
One source said: "Because of the lack of staff at Bilston Glen they've been offering overtime to come in and do a shift.
"You've had T in the Park this weekend, you've got the Open and we have no resources, so bosses are asking for volunteers across Scotland to work."
Meanwhile, another whistleblower has claimed an internal review of call cards, triggered when an incident is reported, revealed a catalogue of failures by the force.
These included not responding to 999 calls, such as one occasion where a man who placed an emergency call as he was assaulted was not contacted until weeks later; a backlog of 10,000 call cards; an emergency call logged as a minor incident, which later turned out to be a serious assault; and no back-up being available when plainclothes police officers were attacked and logged an emergency request for help.
In an email to Willie Rennie, leader of the Scottish Liberal Democrats, the whistleblower said: "It saddens me that Police Scotland is about to implode, such is the level of crisis it is in."
George McIrvine, Unison Police Staff Scotland branch secretary, said: "What has happened is a tragedy and it is a disgrace it takes such a tragedy for this to be looked at seriously.
"In excess of 1,500 highly trained civilian staff have gone since Police Scotland was formed, on top of more than 1,000 from the legacy forces before the merger. That doesn't add up to a good public service.
"We are only two years into efficiency savings within policing, with yet another 11 years of continued cuts still planned by this Scottish Government."