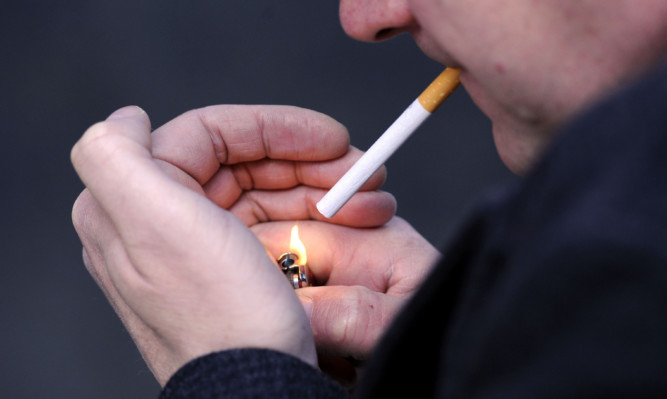 Smoking in Scotland has fallen at its fastest rate since 1999, an official survey has found.
Just a fifth of adults now smoke – a drop of three percentage points on the previous three years, according to figures from the Scottish Household Survey.
This is the sharpest year-to-year decline in smoking rates since 1999.
The Scottish Government aims to cut the proportion of smokers in Scotland to 5% or less by 2034.
Smoking rates in the most deprived areas have dropped from 40% in 2010 to 34% in 2014.
Public health minister Maureen Watt said: "I welcome today's figures which show a significant drop in the number of smokers.
"Smoking is Scotland's largest cause of preventable ill-health and death, killing one in two of its long-term users – and the best thing smokers can do is quit.
"These figures are a major boost as we continue towards our goal of a smoke-free Scotland by 2034.
"The figures are also a testament to young people who choose wisely never to start smoking, the willpower of those who manage to get off cigarettes and the services who help so many Scots to quit each year.
"It's also particularly heartening to see rates falling most notably in Scotland's most deprived communities."
Sheila Duffy, chief executive of health charity ASH Scotland, said: "Such a substantial reduction in the smoking rate suggests that fewer young people are taking up smoking and more adult smokers are quitting.
"This is a significant step on the road towards a tobacco-free Scotland and leaves many more people in Scotland in better shape to avoid cancer, heart disease, stroke, dementia and the range of other harms caused by tobacco.
"Reducing smoking rates is an effective means of tackling poverty – this survey suggests a 5% reduction in the smoking rate amongst the poorest 20%.
"That translates into an extra £50 million every year in the pockets of the poorest people in our society."