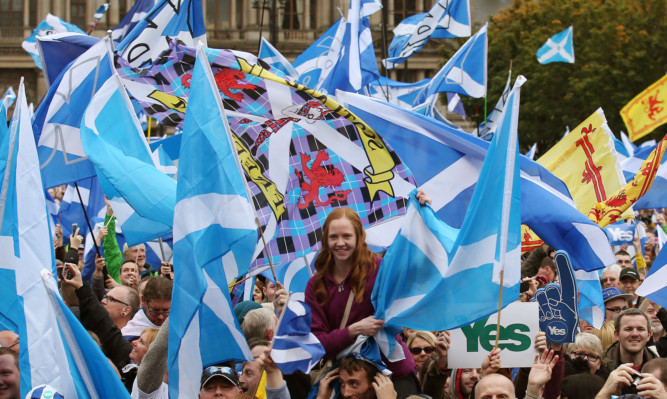 If Scotland had voted Yes in September 2014, today would have been the first day of an independent Scotland.
The Scottish Government would have assumed responsibility for a range of issues currently decided by the UK Government.
The white paper on independence, hailed by former First Minister Alex Salmond as the most comprehensive blueprint for an independent country ever published, was a "mission statement and a prospectus for the kind of country we should be".
It included a series of pledges from the SNP on its priorities if the party formed government in an independent Scotland.
They included a transformation in childcare, a plan to cut corporation tax and simplify the tax system, and the removal of Trident nuclear weapons.
Revenues from North Sea oil and gas had been forecast to "generate approximately £48 billion in tax revenue between 2012-13 and 2017-18", based on an average price of $113 per barrel.
However, the price of oil has plummeted, with a barrel of Brent crude now worth approximately $42, from a low point of just $28 in January.
The latest Government Expenditure and Revenue Scotland (GERS) figures showed Scotland with a deficit of £14.9bn for 2014-15 9.7% of GDP and twice the UK rate of 4.9%.
Benefits would have initially remained largely unchanged, with the Scottish Government proposing a transitional period until 2018.
A new Scottish Broadcasting Service, based on BBC Scotland, would have started broadcasting on January 1 next year.
The MSPs returned to Holyrood after the May election will sit in the most powerful Scottish Parliament ever, thanks to a package of powers agreed in the wake of the 2014 referendum.
The Scotland Bill will see the country handed a range of new powers from April next year, including control over income tax rates and bands and some responsibility for welfare.Wounds of referendum 'slowly healing'Like many people, the referendum was my first real engagement in politics, writes Director of the Scotland in Union campaign Alistair Cameron.
I was impressed by the passion of the Yes side but I couldn't see why we should break up.
While the referendum brought some positives, there was a clear negative side the divisions between family and friends and the ugliness of some of the online abuse.
I was delighted we agreed to stay but I had sympathy for those on the other side who had campaigned just as hard.
Now all we can do is go with the majority decision that's democracy.
But my hope for unity was dashed with accusations of foul play and bad faith, and people became entrenched in their views.
Now 18 months on I believe the wounds of the referendum are slowly healing.
The recent GERS figures show the overwhelming economic challenges we would have faced as an independent country.
The £15 billion deficit in the accounts shows economically we are better off in the UK.
But given what has happened with the country's finances, most people, whether Yes or No, will agree this isn't the right time for Scotland to be independent.
No matter how we voted, there are many things we all have in common pride in our country and a belief it can be better. If we focus on what unites rather than divides us, we can answer some of the challenges Scotland faces today.We owe referendum a fond debtSomething very bracing is happening in BonnieScotland, writes broadcaster Stuart Cosgrove.
Last week Jackie Kay was unveiled as our national poet, and it could not have been a more self-confident Government appointment.
Jackie is openly lesbian, a mixed-race child who was adopted into a communist family.
Her appointment is that of a forward-looking Scotland.
Scottish culture is living through a fascinating era.
Yes, public money to fund the arts is tight and austerity has restricted the flow of new money into the cultural industries but it has not quelled an upsurge in creativity.
Viewed from thevantage point of history, the independencereferendum has given licence to new attitudes, which have helped anew era of culture to flourish.
There are many huge projects you can point to the global success of the Edinburgh Festival and the transformation of Dundee's waterfront and the new V&A.
We owe the referendum a fond debt. It reminded Scotland that taking initiative is the essence of great grassroots culture.
Self confidence is an elixir of our times, and we should drink it without inhibition.Economic abyssThe stark contrast between the Scottish Government's 2014 independence white paper and the reality of Scotland's economy today may provoke a wry smile, writes former Better Together advisor Professor Jim Gallagher.
But we would not be smiling if the vote had gone the other way. We would be looking into an economic abyss. The catastrophic effect of independence of public finances was repeatedly explained in the campaign.
But even the gloomiest of forecasters didn't expect it to look as bad as it does in 2016.
Of course the reason is the complete collapse, rather than just the forecast decline, of North Sea oil revenues.
Scotland would be facing another economic dilemma: what currency to use?
When the Chancellor of the Exchequer and the Governor of the Bank of England said sharing a currency wouldn't work for the UK or Scotland after independence they weren't bluffing.
So this week bureaucrats from the Treasury, the Bank of England, the EU and quite possibly the International Monetary Fund would have been advising an increasingly desperate Scottish administration on how to launch a new currency, and let it float on the international markets.
Scots would be moving their bank deposits toEngland. Scottish banks would be relocating their headquarters to London.
None of this, thankfully, is happening.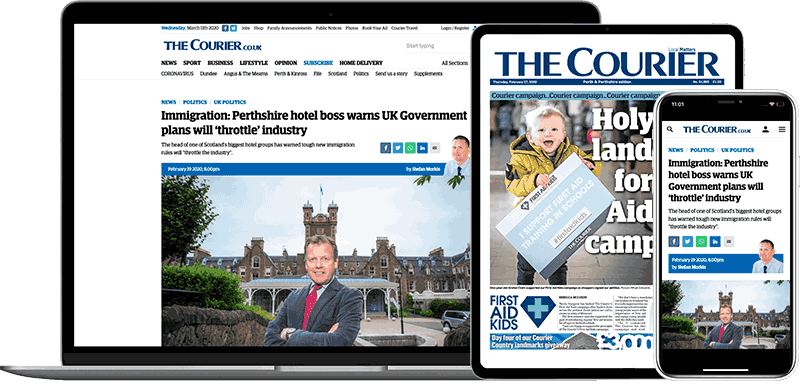 Help support quality local journalism … become a digital subscriber to The Courier
For as little as £5.99 a month you can access all of our content, including Premium articles.
Subscribe