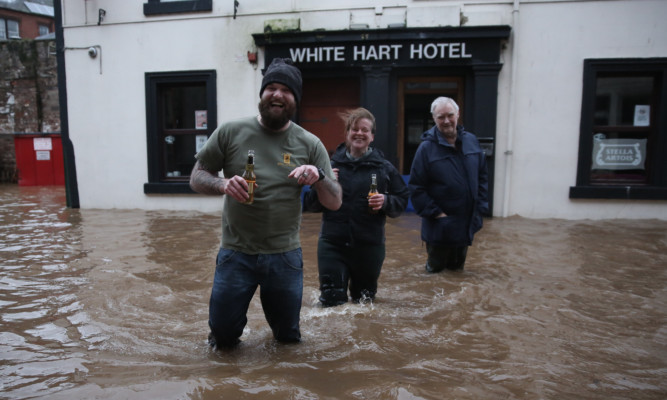 Communities affected by flooding in Scotland are assessing the damage after Storm Frank left people stranded, in temporary accommodation and without electricity.
Large parts of the country were affected by Wednesday's heavy rain and gale-force winds, which prompted the most severe "danger to life" flood warnings to be issued.
Dozens of residents were evacuated from their homes as floodwaters rose, forcing them to spend the night in temporary accommodation.
Angus, Perthshire, Aberdeenshire, Ayrshire, Dumfries and Galloway and the Borders bore the brunt of the severe weather, which caused disruption to road, rail and ferry services.
Emergency services who carried out a "major multi-agency response" to severe flooding in Peebles in the Scottish Borders said they rescued six people who were trapped in their homes and cars and 25 people from a care home.
First Minister Nicola Sturgeon is visiting Newton Stewart in Dumfries and Galloway, one of the communities worst affected by the storm.
As the clean-up operations got under way across the country, dozens of flood warnings and flood alerts remained in place throughout Scotland.
The Scottish Environment Protection Agency (Sepa) had issued a "severe flooding – danger to life" warning for Whitesands in Dumfries and Galloway and for the River Tweed in Peebles but these are no longer in force.
Twelve people, including two children, were rescued from a bus after it was stranded in floodwater in Dailly, South Ayrshire, on Wednesday.
And emergency services responded to reports of a missing kayaker on the River Findhorn in Moray in the afternoon.
There were also concerns that a person had fallen into the raging River Tay at Grandtully, but that proved to be a well-intentioned false alarm.
The Scottish Fire and Rescue Service (SFRS) said it had been involved in a "major multi-agency response" after the River Tweed burst its banks, flooding large areas of Peebles.
An SFRS spokeswoman said: "We deployed four specialist water rescue teams, utilising boats to rescue persons trapped in their homes and cars. Six persons were rescued using specialist water rescue teams utilising boats.
"The multi-agency response involved police, the ambulance, the RNLI, mountain rescue and local authority emergency planning officers.
"We mobilised our specialist urban search and rescue teams to a care home. Twenty-five people were rescued from that."
In Aberdeen, coastguard rescue teams were called to help evacuate residents from a care home which was flooded.
Residents were evacuated from Riverside Drive in the city and moved to Norwood Hall, which was opened as a rest centre.
In Aberdeenshire, people in Anderson Road, Deebank Road and Albert Road in Ballater were evacuated and a rest centre was set up at the Victoria Barracks and nearby Aboyne Academy.
At the other end of the country, in Newton Stewart, homes were also evacuated and a rest centre set up at Douglas Ewart High School.
The rain and gales also left thousands of homes without power, with faults caused by wind damage and trees or other debris on the lines.
Scottish Hydro Electric Power Distribution (Shepd) said it has made good progress in restoring power to properties in Ballater. More than 400 properties in the town remained off supply on Thursday morning.
The utility company said its engineers have been hampered by floodwater, with some electricity poles washed away by the torrents, and landslips making some roads impassable.
A spokeswoman said: "Overnight, working with Police Scotland and other agencies, engineers have restored electricity supply to properties where it was safe to do so, but 450 properties in Ballater remain off supply.
"With water and river levels forecast to rise this morning engineers have been monitoring flood protection on key substations."
Ms Sturgeon said she would be in the south of Scotland to see for herself some of the damage caused by the storm and thank those working around the clock to respond.
Deputy First Minister John Swinney is carrying out a similar engagement in Aberdeenshire.
Environment Minister Aileen McLeod, who is visiting Newton Stewart with Ms Sturgeon, said the torrential rain, rising rivers and strong winds caused by Storm Frank created a "very serious situation" in parts of Scotland.
She told BBC Radio Scotland: "Our thoughts and sympathies right now are with all those whose homes and livelihoods have been affected by the severe flooding that's been caused by Storm Frank.
"Flooding is never easy at any time of year, but particularly at this time of year it is extremely hard to see people evacuated from their homes and having to spend the night in rest centres."
The minister thanked all those involved in the efforts to keep people safe and protect communities.
She told the Good Morning Scotland programme: "The Deputy First Minster has activated the scheme which provides support to local authorities to assist with the immediate and unforeseen cost of dealing with the latest flood damage. We are committed to helping communities get back on their feet as quickly as possible."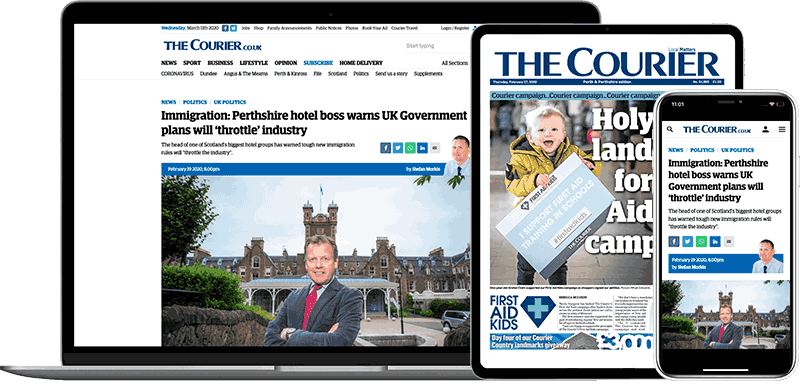 Help support quality local journalism … become a digital subscriber to The Courier
For as little as £5.99 a month you can access all of our content, including Premium articles.
Subscribe