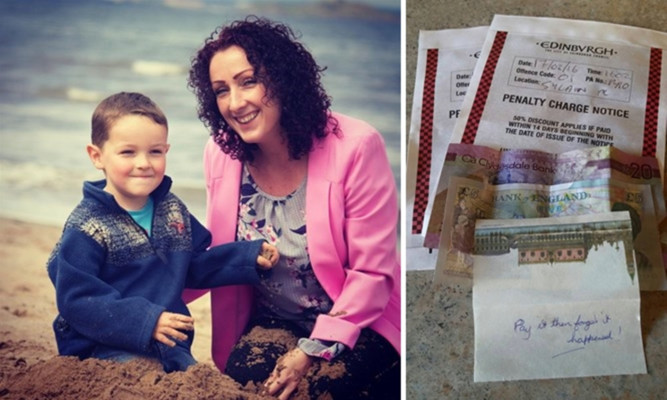 A stranger's random act of kindness in paying for a mother's parking ticket as she sat by her son's hospital bedside has spiralled into a fundraising drive.
The anonymous Good Samaritan left £25 on Mairi Holden's windscreen after seeing she had been issued with two parking tickets while at the Royal Hospital for Sick Children, in Edinburgh, with son Oscar.
Overwhelmed by the unknown donor's kindness, Mairi doubled the gift to donate to the Sick Kids Foundation and asked others to give to.She also hopes to find out who the stranger is so she can thank them for their generosity.
Mairi's original post on Facebook about the parking tickets has been shared more than 11,000 times and donations are pouring into the Justgiving page she has started.
When Mairi, of Edinburgh, took Oscar to hospital she did not expect he would be kept in overnight and had parked on a single yellow line.
With the money was a note telling her: "Pay it then forget it happened!"
She said: "Some amazing person, don't know who, left this note and money tucked under one of the tickets.
"How unbelievably kind and thoughtful is that?"
She later decided to repay the kindness by putting the money back into the hospital and encouraging others to do the same.
She said: "I would like to see how one person's kindness can have a huge impact on the world [and] so many other people's lives.
"The service at Sick Kids is incredible, the staff are amazing and work around the clock to save lives and help others.
"Imagine when the anonymous stranger finds out just what has happened as a result of doing such a lovely thing!"