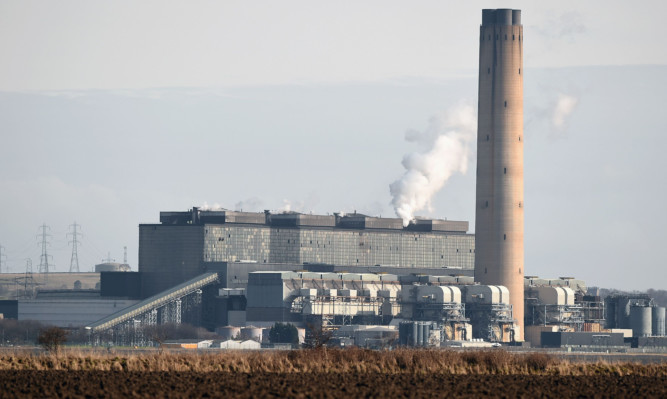 The coal-fired Longannet power station is to close next year as high carbon taxes and transmission charges have made it "uneconomic".
Operator ScottishPower said earlier this year that the plant in Fife would "in all likelihood" close after losing out on a short-term National Grid contract.
It has now been confirmed that Longannet will close on March 31 next year after 46 years of producing power.
ScottishPower said high carbon taxes and high transmission charges have made it unsustainable.
The plant currently employs 236 people. Scottish Power said "a number of opportunities will be available for redeployment" while the Scottish Government has set up a taskforce to support workers and other businesses affected by the closure.
Trade unions Prospect and GMB said the news was a "body blow" to staff and the Fife economy.
ScottishPower also confirmed that plans for a new gas-fired power station at Cockenzie, East Lothian, have been scrapped "due to the same economic conditions".
Neil Clitheroe, chief executive of retail and generation at ScottishPower, said: "This is a sad day for ScottishPower, and for our highly-skilled and committed team at Longannet.
"We have explored every potential option to keep the station open, and we still maintain that Longannet could continue generation in to the next decade under the right economic conditions.
"Our main focus now is consulting with staff to ensure we find the best outcomes possible for all of the 236 impacted employees, many of whom have spent their entire career at the station."
Scotland's Energy Minister Fergus Ewing described the closure as "deeply regrettable".
He said: "This is a worrying time for Longannet workers and the Scottish Government and its agencies will do everything possible to support the 230 directly employed staff who will be affected by this announcement.
"Since March, when it was announced that early closure was likely, I have met twice with ScottishPower, Fife Council and workforce representatives to consider the issue and secure the best possible outcomes for those affected.
"We will now establish a taskforce to build on that work and develop a joint, multi-agency action plan to mitigate the impacts of the closure locally and across the supply chain."
Mr Ewing added: "Today's decision is ultimately an unfortunate and direct result of the UK's discriminatory transmission charging system that penalises Scottish electricity generators in comparison to those in the south of England.
"In Longannet's case the extra charges amount to £40 million per year. However, despite raising our concerns repeatedly with the Prime Minister, absolutely nothing has changed."
Both the Scottish Greens and WWF Scotland said the closure was "inevitable" due to air pollution rules and a growth in renewable energy.
Opposition parties in Scotland called on the Scottish Government to help workers and develop a new energy strategy.
Labour's shadow energy minister Lewis Macdonald said: "SNP ministers have been reluctant to engage on this issue and setting up a task-force only today shows they have been far too slow in preparing for the consequences.
"It is high time Fergus Ewing put people before politics and worked with Fife Council to support Longannet workers going forward.
"Longannet's closure, and the decision not to proceed with Cockenzie, also raises serious questions about what contingency policies, if any, are in place for Scotland's future energy supply, and these are questions which need to be answered urgently at Holyrood and Westminster."
Scottish Conservative energy spokesman Murdo Fraser said: "In Scotland two nuclear power plants at Torness and Hunterston are due to close by 2023, which means we will have lost 55% of our electricity generating capacity within eight years.
"The Scottish Government has no idea how to make up that gap, which will leave us increasingly reliant on energy imports from England.
"The closure of Longannet must act as a wake-up call to the SNP to bring forward an energy strategy for Scotland which draws power from a balance of sources, not just intermittent wind."