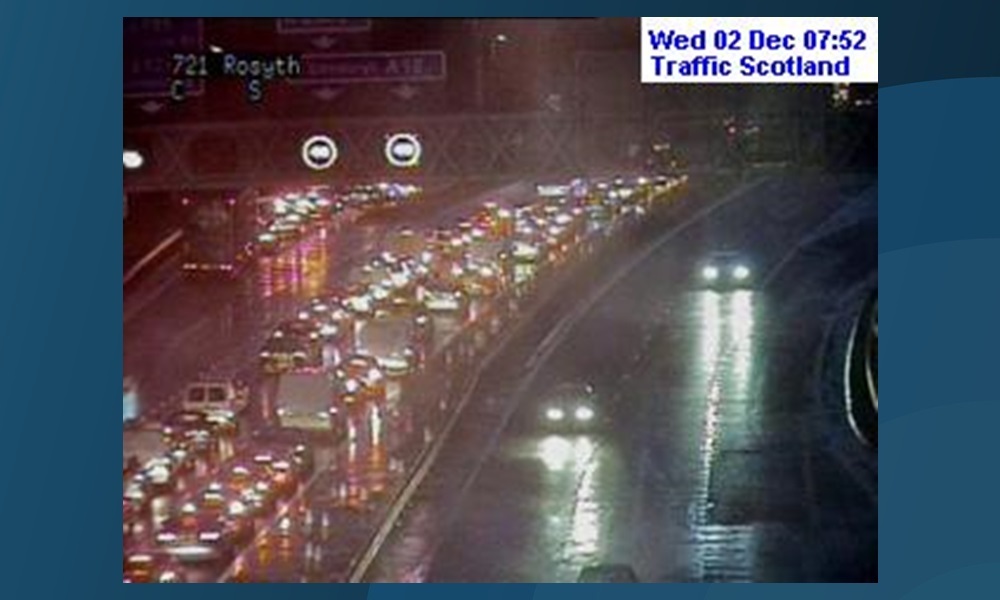 Motorists faced a morning of traffic misery today after faults found in steelwork on the Forth Road Bridge forced emergency restrictions.
The bridge is down to one lane in each direction. And while that would cause enough problems on its own, high winds compounded matters as the bridge was closed to high-sided vehicles, cars with trailers, motorbikes, bikes and pedestrians.
Engineers discovered a defect on a steel component underneath the southbound carriageway on Tuesday afternoon.It was closed as a safety precautionand to allow a full inspection at first light this morning.UPDATE: Bridge chiefs confirm restrictions will remain until Thursday afternoonHowever, that early inspection was delayed because of the strong winds, meaning it might be a case of dj vu for the evening rush hour as well.
The inspection was due to begin at first light today, which was after 8am.However, it only got under way at 10am.
Further updates on what that discovered are expected later this afternoon but traffic continues to be restricted to a single lane in each direction in the meantime.
A spokesman for bridge operators Amey said: "Engineers and specialists are undertaking a detailed inspection this morning, the outcome of which will inform decisions on whether any further restrictions are required.
Would very strongly advise avoiding @forthroadbridge this morning. Traffic at a standstill back to Dunfermline pic.twitter.com/EjSm72XkCI

— Emma O'Neill (@Journo_Emma89) December 2, 2015
"It is possible that the restrictions will remain in place across this evening's peak period and we would ask people to take this into account when they are planning their journeys."
Abnormal loads are not permitted to cross while the contraflow is in place.
The footpath/cycletracks remain closed to pedestrians while the inspection is in progress and Amey's patrol vans at either end of the bridge will transport cyclists who need to cross.
Amey's Mark Arndt said: "We apologise for the short notice to these essential traffic restrictions and are aware that they will result in very long delays, so our advice is to avoid Forth Road Bridge and divert via Kincardine or the A9 and M9, use public transport or travel outwith peak times.
https://twitter.com/scottishxpress/status/671950712566362112
"We do sympathise with all drivers who face delays, however I'm sure everyone appreciates that safety must come first.
"Drivers did take heed of the warning this morning and we would ask them to check the latest information before they set off on their journeys across the day.
"Traffic Scotland will have all of the latest information on their website and Twitter feed.We'll provide further updates once our investigation is complete and we have information to share."
The traffic restrictions were announced on Tuesday evening. Problems centred on a defect on a steel component underneath the road discovered during a planned and routine inspection.
Despite many motorists taking heed of advice and heading toward the Kincardine Bridge, or making use of public transport, there were still huge queues on either side of the Forth from as early as 6am.
At its peak southbound traffic was backed up to the Halbeath junction of the M90.But by 10.30am vehicles were again flowing freely.
However, there was a 25-minute delay in getting to the Kincardine Bridge with traffic backed up to High Valleyfield.
In Rosyth and Inverkeithing, roads were described as "horrendous" as motorists queued up to find a way across the Forth.
Fife's train stations were busier than usual with parking spaces filled with vehicles as savvy commuters ditched their cars amid the roads chaos.
As well as those travelling by car, bus services have also been compromised by the inspection work with Stagecoach warning passengers of delays on its express services travelling from Fife to both Edinburgh and Glasgow.'Was always going to cause chaos'I was lucky enough to be travelling north into Fife and so had a shorter queue than those coming south but even leaving half an hour earlier than normal I was still very late for work, writes Courier reporter Kirsty McIntosh.
I reckon it took me approaching an hour to get across. The problem is that once you are committed to the A90 from the Edinburgh side there's no way of taking an alternative route you're stuck and just have to wait.
I'm told that the queues for the bridge were so bad that they were causing problems for local traffic in Inverkeithing and Dunfermline.
I know safety comes first but funnelling four lanes of traffic into one was always going to cause chaos.