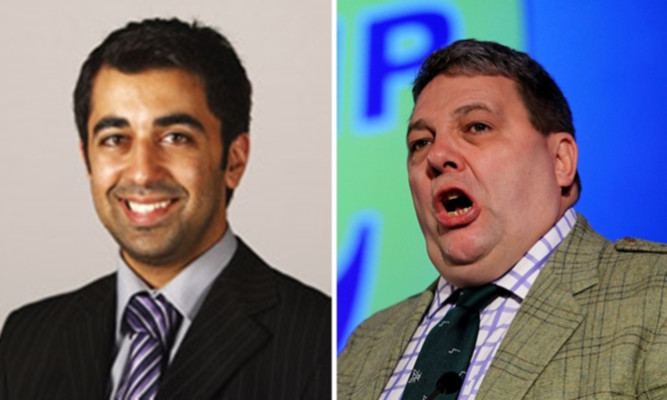 Europe minister Humza Yousaf has asked European Parliament officials to discipline Ukip MEP David Coburn for making allegedly "Islamophobic" remarks.
Mr Coburn reportedly referred to Mr Yousaf by the name of convicted Islamist terrorist Abu Hamza in an interview.
Mr Yousaf has written to European Parliament president Martin Schulz calling for Mr Coburn's remarks to be investigated and for disciplinary action to be taken as appropriate.
Scotland's five other MEPs from across the political spectrum have also written to Mr Schulz backing Mr Yousaf's call for an investigation.
Ukip leader Nigel Farage has dismissed the remarks as "a joke in poor taste" and said he will not take any action against Mr Coburn.
Mr Yousaf said: "The abhorrent remarks made by David Coburn were an absolute disgrace that would not be acceptable for any individual to make, let alone an elected member of the European Parliament.
"The European Union rightly prides itself on its promotion of tolerance and inclusion – something David Coburn's remarks are completely at odds with.
"David Coburn's Islamophobic insult has caused serious offence and anger to the Muslim community in Scotland, the UK and further afield. It is not acceptable and action must be taken.
"Bigotry of the kind displayed by David Coburn should not be tolerated and I hope that the European Parliament will send out a strong message by taking action against him."
SNP MEP Alyn Smith added: "David Coburn's appalling remarks are an absolute embarrassment from an elected parliamentarian.
"For the sake of the European Parliament's reputation and common decency, action needs to be taken. I am glad that Scotland's other MEPs can unite to call for such action."