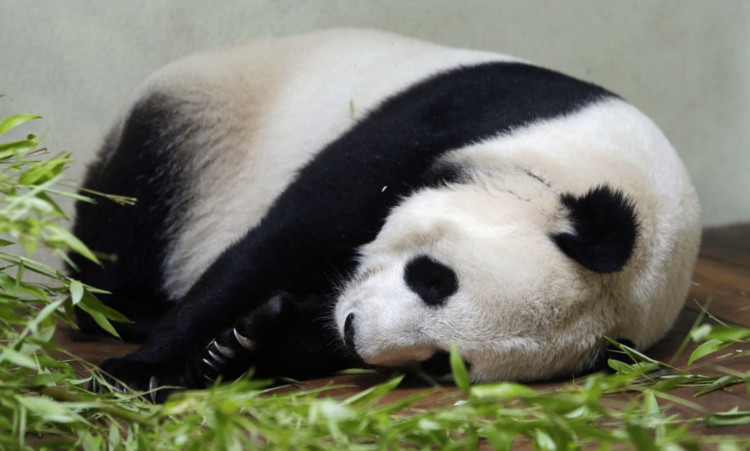 The UK's only female giant panda is still behaving as though she is pregnant, zoo bosses said as their wait goes on for the arrival of a cub.
Edinburgh Zoo said they are still within the time-frame for a possible birth but stressed that Tian Tian is "definitely not a textbook panda".
Panda breeding is not an exact science and it remains "really difficult" to tell if a female panda is expecting a cub, the zoo said in a statement.
Tian Tian (Sweetie) has been keeping her keepers, and the public, guessing over her possible pregnancy since she was artificially inseminated in April.
In August, Edinburgh Zoo said she is showing encouraging signs of pregnancy. Tian Tian was later placed on 24-hour surveillance, with early expectations that she could give birth in late August or September.
In early September, the zoo cautioned that any birth could happen two weeks later than previously thought. Now it remains the case that no one can say for sure whether the panda is pregnant, or, if she is, when she might give birth.
Edinburgh Zoo said it is still possible Tian Tian is expecting and they will continue to prepare for a new arrival.
"Panda breeding is not a precise science and, combined with this, each animal has their own individual biology and Tian Tian is definitely not a textbook panda," a zoo spokeswoman said.
"Whilst Tian Tian continues to behave like she's pregnant and whilst her hormones, behaviour and physical changes suggest the same, we will continue to manage her accordingly; as soon as we know otherwise we will of course announce this.
"To put it into context, there are no experts around the world who can say definitively how long a giant panda pregnancy is.
"It is really difficult to tell if a female panda is pregnant and when she will give birth, mainly due to pseudo and lost pregnancies that occur with this species and that they can practise delayed implantation.
"Unfortunately the results from predictive tests used in panda zoos around the world to determine pregnancy can only be understood historically and as time goes on and more results become available we build up a fuller picture of when Tian Tian could give birth. We are still within timings.
"A large number of cutting-edge scientific tests are still in their infancy. In fact, Tian Tian is only the third panda many of these have been trialled on."
If a birth does happen, it could last just minutes because of the small size of newborn cubs.
Tian Tian and her male companion Yang Guang arrived at Edinburgh Zoo from China in December 2011. Zoo bosses hoped the pair would mate naturally when she came into season.
But animal experts ruled out putting them together after assessing her behaviour and Tian Tian was artificially inseminated using semen from Yang Guang and another panda.