 Thousands of people are being sought to trial a blood test that could detect lung cancer at an earlier stage.
The test is being offered to patients in and around Tayside and Glasgow who have a higher risk of getting the disease, such as smokers and ex-smokers.
It detects levels of substances in the blood known as autoantibodies, which the body produces when cancer develops.
The disease could be detected months or even years earlier than it would otherwise be diagnosed, researchers say.
Up to 10,000 people will be invited to take part in the study, with half of those who sign up randomly selected to take the test.
Researchers will then track what happens to everyone in the study for 10 years.
People with increased levels of autoantibodies will be referred for a chest x-ray and CT scan to find out whether they have cancer, and offered NHS treatment and support if they do.
A total of 60 patients have already taken part in a pilot of the study, which could be rolled out across Scotland if successful.
The Scottish Government aims to increase the early detection of cancer by 25%.
Health Secretary Alex Neil said: "By diagnosing lung cancer at its earliest possible stage, we stand a better chance of being able to treat it successfully, using less aggressive treatments and improving life expectancy.
"If the trial demonstrates better outcomes for those who are tested it will provide good evidence that a population screening programme would be beneficial.
"I would encourage people who are invited to take part in the study to do so as it is important that we have sufficient people involved to make the results valid."
Lung cancer kills more people than any other cancer, and Scotland is said to have one of the highest rates of the disease in the world, with fewer than 9% of patients still alive five years after diagnosis.
The study is cofunded by the Scottish Government and Oncimmune, the company that developed the Early CDT-Lung blood test.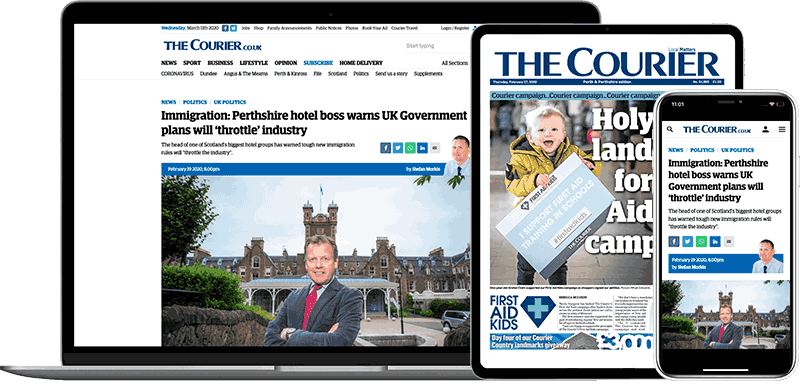 Help support quality local journalism … become a digital subscriber to The Courier
For as little as £5.99 a month you can access all of our content, including Premium articles.
Subscribe