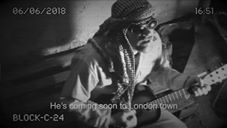 A song about the US president which parodies Donald Where's Your Troosers? has become a viral hit.
Hoodoo Zephyr penned lyrics to the Scottish tune mocking Donald Trump's personal life and politics.
Donald Medley – Hoodoo Zephyr. A song inspired by the alleged antics of a wayward POTUS.A pleasing parody of some well loved tunes, lovingly blended into this spell-binding medley, served up for your enjoyment.This track is not, and will not be, commercially available, and was recorded and filmed purely for the amusement of the band. Credit, in no small part, is due to the following: Songs – ⁃ "Donald Where's Your Troosers?" – Andy Stewart & Neil Grant. ⁃ "Mhari's Wedding" – John Roderick Bannerman. ⁃ "Drunken Sailor" – Sober Sailors c1850. Images – ⁃ "Isle of Skye" – Nilfarion. Ordnance Survey Open Data. – https://commons.wikimedia.org/wiki/File:Isle_of_Skye_UK_location_map.svg ⁃ "Over-comb" – Sam – Wikimedia. – www.flickr.com/photos/52061252@N00/31597791134 ⁃ "Scottish Fold Cat" – Vladimir Pustovit. – www.flickr.com/photos/pustovit/13223591385 ⁃ "Underground Sign" – Max Pixel – www.maxpixel.net ⁃ "Balmedie" (Trump Links – Menie) Alanatabz. – https://commons.wikimedia.org/wiki/File:Trump_Intl_Link_-_Menie_Estate_Course_clubhouse.JPGWe hope you enjoy this as much as we did 🙂

Posted by Hoodoo Zephyr on Thursday, 5 July 2018
The Aberdeenshire-based band's video has since had more than 24,000 views on its Facebook page.
Now the punk-folk group hope their song will be chanted by crowds at some of the anti-Trump demonstrations planned across Scotland during his visit this weekend.
Lead guitarist Geoff Sprinks said: "We will not be anywhere near where he's going to be, it would be lovely to have played at one of the protests.
"We just hope enough people can see the video and can sing a bit of it – that would be lovely."
Gatherings and rallies are planned across the UK from Thursday, when Mr Trump is expected to touch down in Britain.
With Mr Trump set to travel to Scotland on Friday evening after meeting the Queen at Windsor Castle, a protest is planned for Glasgow's George Square.
A protest will also be held outside the president's Balmedie golf course in Aberdeenshire on Saturday, and it is expected there could be further demonstrations at his Turnberry resort in South Ayrshire.
A national demonstration is planned at the Scottish Parliament in Edinburgh on Saturday, as well as a "Carnival of Resistance" in the Meadows area of the capital.
Mr Sprinks, who goes by the stage name Sprinkles, added: "Our vocalist, Freak, had a bit of a thing about Trump.
"He keeps an eye on politics, with the golf course happening it became prominent.
"The when he became president, that really floated Freak's boat."