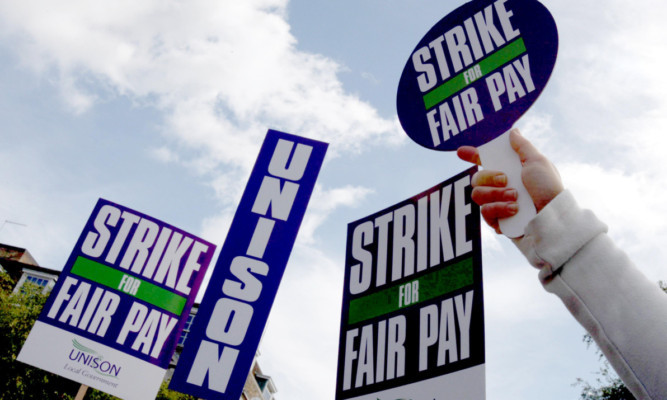 Tens of thousands of local government workers are being balloted for a strike.
The Unison trade union is asking members if they will strike in an attempt to increase the 1% pay rise they have been offered. A total of 75,000 workers across 32 councils are being balloted.
Unison has also contacted all of Scotland's local authority councillors, asking them if they think the offered pay rise is fair.
Mike Kirby, the union's Scottish secretary, said: "We have asked every councillor in Scotland whether they think it is fair that their employees have been offered a miserly 1% when the value of staff pay has fallen by more than 10% in the last three years."
Over the last three years "housing costs, domestic fuel and travel to work costs have risen considerably", he pointed out.
"Our members work hard delivering quality public services day in and day out. We believe they deserve fair pay and a commitment to annual rises in the Living Wage.
"That is why we are balloting on strike action to win a better pay offer than the miserly 1% which was offered and rejected.
"We believe a better pay offer is affordable and it would, in fact, benefit local economies in a big way as council workers spend more than half their wages locally."
But Local government body Cosla said it is inaccurate to say that the pay deal on the table is not fair.
Bill Hendry, Cosla's strategic HR spokesman, said it has "put the best deal possible to the trade unions, with a 1% increase for every local government worker in Scotland".
It has "introduced the Scottish Local Government Living Wage at £7.50 per hour minimum – higher than the recommendation of the Joseph Rowntree Foundation".
Mr Hendry said: "Nowhere else in the UK outside London has a better offer been made to local government employees.
"It is deeply disturbing that Unison should seek to so blatantly mislead their members and give false hope that strike action will lead to an increased offer."
Unison's ballot runs until August 13.