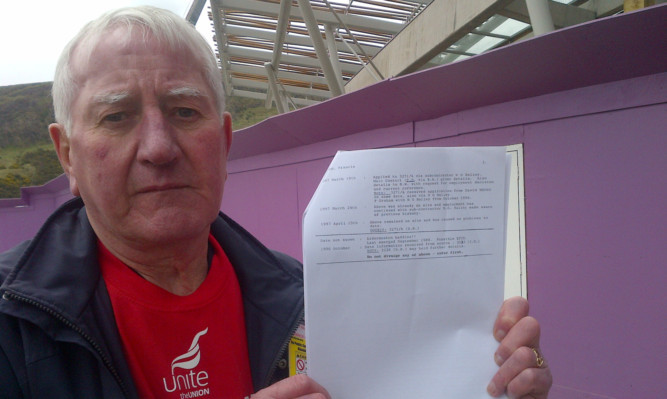 "I lost my wife eight years ago and I know the problem was me having to work away. It was a stress on family life."
Dundee electrician Francie Graham was put on a blacklist in 1975, meaning he could not find work with any major company in Scotland.
That forced him to sign up to agencies and travel the length and breadth of the country in a desperate bid for work.
He cites the strain that put on his home life as a major factor in the death of his beloved Alma, aged 59.
Mr Graham was one of dozens of protesters who gathered outside the Scottish Parliament on Thursday to demand a ban on firms who blacklist trade union members from bidding for public-sector contracts and for their bosses to be put in prison.
Chants of "no public contracts for blacklisting companies" and "blacklisting is crime blacklisting bosses should do time" could be heard at the Unite union rally.
Their allegations stem from a 2009 raid by the Information Commissioner's Office (ICO) on the offices of The Consulting Association, an organisation which compiled details of unionised construction workers which it sold on to contractors for profit.
Mr Graham claimed he was dogged by being blacklisted as late as 2005 when he was working on Heathrow Airport's Terminal 5 project.
He said: "I was there 10 or 11 weeks and I was going for the shop steward's job. They got wind of this, I got the tap on the shoulder and was told that was me finished.
"I was blacklisted from 1975 until 2007. I've had to work for agencies all my life."
Fellow Dundonian Steuart Merchant told how he spent the last 13 years of his career doing shop-fits because he was blacklisted but has never been told why he was given the black mark.
He added: "In the 1980s I was a shop steward representing a member and a director at the company I was working for said I would never work for them again."
Rozanne Foyer, senior regional organiser at Unite, said: "To the blacklisting companies our message is simple: we know who you are, where you are, we are coming after you, and we will not stop until you have stopped your immoral practices."
Labour MSP Neil Findlay later led a members' debate on blacklisting in the Scottish Parliament.
He said: "It's a human-rights abuse that has been going on for decades and now that the Commons Scottish Affairs Committee has managed to expose the activities of the Consulting Association and all of the major construction companies we are hopefully going to get justice.
"I would like the Scottish Government to engage with the trade unions and others who have got an interest in this issue, and I would personally like the Scottish Parliament to have an inquiry into this to find out the extent in Scotland."