Menie Estate resident David Milne pleads for planning system changes in wake of Donald Trump dispute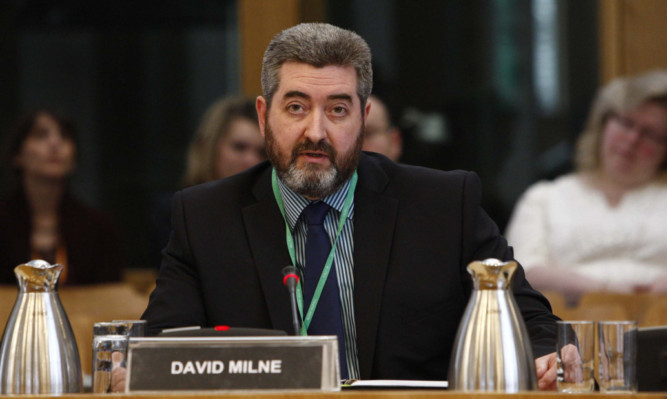 Police and other public authorities are being invited to respond to allegations they "overstepped" boundaries in relation to Donald Trump's application for a golf resort on the north-east coast.
The decision to invite them was taken by MSPs considering a 19,000-strong petition for an inquiry into the way the application was handled.
Holyrood's Public Petitions Committee heard from campaigner David Milne, who lives on the Menie Estate bought by Mr Trump for his resort.
Mr Milne's proposal would involve an inquiry covering former first minister Jack McConnell's Labour-led Scottish Executive, Alex Salmond's SNP Government and Aberdeenshire Council, controlled by the Liberal Democrats at the time.
He specifically called for consideration of council and police behaviour.
"I'd like to see councillors in future thinking twice before accepting hospitality at an opening event, failing to record this in the appropriate registers but managing to post photographs and opinions on their own website," he said.
"Above all it's about the protection the planning system is meant to provide to communities like ours and to environments like the now-destroyed SSSI (Site of Special Scientific Interest) at Menie.
"The behaviour of the police in relation to bias and inappropriate activity requires review and investigation. We've been through a lot in the past eight years and I'm determined to see something good come out of it."
The petition is not an attempt to overturn the planning decision, he said.
John Wilson, an SNP MSP and deputy convener of the committee, said it is only fair to give public bodies the chance to respond.
"There have been a number of inferences to public bodies in terms of the evidence we've heard this morning, and I think it would only be right that these public bodies have a right to respond to the petition and to some of the comments that have been made," he said.
"The organisations, which include Aberdeenshire Council, Scottish Natural Heritage, Marine Scotland and Grampian Police (now the Scottish police service), have been named today as organisations which either overstepped the bounds or acted with impropriety in their conduct with the residents in the Menie Estate."
Until Mr Wilson's intervention, it looked as though the petition would be closed.
Convener Chic Brodie, an SNP MSP, raised his concerns about how wide ranging any inquiry would have to be. He invited Mr Milne to submit his views to a consultation being held on future planning policies.
Mr Milne later said he was pleased with the outcome of the committee hearing.
"We never really expected a full public inquiry but if these bodies recognise that there are problems and there are issues in the way they've handled this then there's potential that the next time it comes around to someone else, they won't be treated in quite the same way," he said.
"With or without an inquiry, the questions will be asked and hopefully we'll get the right answers."
Mr Trump's £750 million luxury golf and housing resort on the Menie estate in Aberdeenshire was approved in 2008 and finally opened last summer.
The application was initially rejected by a local authority committee but was then controversially called in by the Scottish Government.
First Minister Alex Salmond became local MSP for the area in 2007.
The plan was subsequently rubber-stamped by the council, then approved by Finance Secretary John Swinney in November 2008.
A planning inquiry and a Holyrood committee inquiry have already taken place.