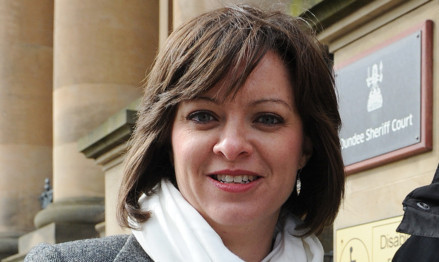 Labour has demanded answers from the Scottish Government after The Courier revealed hundreds of criminal convictions could be overturned due to poor DNA sample procedure.
There were calls for Scotland's Justice Secretary to give assurances police custody staff are properly trained to take DNA and fingerprint samples after The Courier revelations reverberated around the political corridors of power.
Labour's community safety spokeswoman Jenny Marra called on Kenny MacAskill to make a ministerial statement to Holyrood on the issue after the bombshell news that Police Scotland had launched a nationwide review into the issue.
We revealed hundreds of criminal cases could be put in jeopardy amid fears unauthorised staff were routinely taking the samples in Dundee and Arbroath custody suites.
Ms Marra, a Dundee-based North East Scotland MSP, said: "I'm calling on the Justice Secretary to make a statement to Parliament at the earliest opportunity.
"We need to know if this has happened in other parts of Scotland. It's critical as it could impact seriously on the reliability of evidence.
"The Scottish Government must give Parliament assurances that Police Scotland are training staff to take fingerprint evidence and managing this process properly.
"This is a serious situation and must be addressed urgently by the Cabinet Secretary and Police Scotland."
Despite concerns raised on the issue, no spokesman for the Scottish Government would respond directly to either Courier questioning or Ms Marra's call for a ministerial statement.
When asked if Alex Salmond had discussed the issue with Chief Constable Stephen House, a spokesman for the First Minister said it was a matter for the Justice Secretary.
When officials were asked if Mr MacAskill had taken the issue further, indications were made he had not been in direct contact with Mr House.
However, the issue was not addressed directly in an official statement, and when asked if a ministerial statement would be made following Ms Marra's calls, a Government spokesperson would only say: "The Scottish Government is being kept informed of the progress of the Police Scotland inquiry."
Police Scotland has confirmed it is "actively seeking clarification" on the role of civilian custody staff in taking DNA and fingerprint evidence.
The move was prompted by concerns about procedures used in the Tayside division, which came to light after The Courier obtained an email ordering all police staff at stations in Dundee and Arbroath to stop custody duties immediately.
The force said staff who may not be authorised to take fingerprints or DNA would no longer do so. A statement insisted there had been "no impact" on service provision.
Some civilian employees are authorised to undertake specialised evidence-gathering, including DNA testing and fingerprinting.
Their work, and the work undertaken by police, will not be affected.
Labour MSP Graeme Pearson, a former director of the Scottish Crime and Drug Enforcement Agency, warned the implications could be devastating if it is found workers did not have the appropriate authority.