Community sentences handed out to criminals have fallen by 10% in a year, official figures indicate.
Having risen since 2010/11, the sentences handed out as an alternative to custody – such as community payback orders, restriction of liberty orders or drug treatment and testing orders – fell from a total of 18,646 in 2016/17 to 16,830 in 2017/18.
A report from Scotland's chief statistician shows custodial sentences fell by 6% to 11,973 in the same period, the lowest level since 2008/09, while fines and other types of sentence dropped by 13% and nine per cent respectively.
Community sentences accounted for a fifth of sentences in 2017/18, behind fines at 47% and ahead of custodial sentences at 14% and other sentences at 18%.
The number of convictions also fell by 10% in the same period, down from 92,347 to 82,716.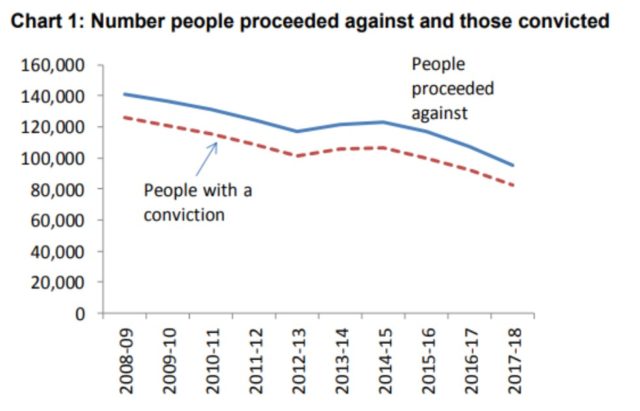 This reflects a similar fall in number of people proceeded against in court – down 11% to 95,254 – and the number of criminal reports handed to the Crown Office and Procurator Fiscal Service, down 9%.
Falls in the numbers convicted for breach of the peace (down 11%), common assault (down 13%), speeding (down 12%), drugs (down 15%), and crimes against public justice (down 11%) were behind the drop.
Sexual crimes convictions rose by 1% to 1,053 while homicide convictions were up 17% to 90, those for robbery rose 9% and convictions for attempt murder and serious assault were up 17%.
Domestic abuse convictions dropped for the third year in a row, down 10% to 9,782.
At the same time, the overall conviction rates for all crimes and offences rose by one percentage point to 87%.
Rape and attempted rape had the lowest conviction rate at 43%, up four percentage points on 2016/17.
The rate for all sexual crimes was at 70%, up one percentage point in the same period, while the homicide conviction rate dropped four percentage points to 69%.
Speeding had the highest conviction rate at 98%, unchanged from 2016/17.
The report indicates the average custodial sentence length in 2017/18, excluding life sentences, was around 10 and a half months, a marginal increase on the previous year.
Justice Secretary Humza Yousaf said: "Short custodial sentences are not effective and Scotland must go further to increase the use of robust, community-based sentencing.
"We know that murderers and others given life sentences are serving longer in custody and these latest figures show an increase in average prison sentences for a range of the most serious crimes including rape, attempted rape and homicide.
"We can support our hard-working prison officers by ensuring prison is focused on those people convicted of the most serious crimes and who pose the highest risk to public safety. This will help them to support rehabilitation to reduce the likelihood of reoffending and keep our communities safe."
He also praised a fall in youth convictions of around two-thirds in the past decade.