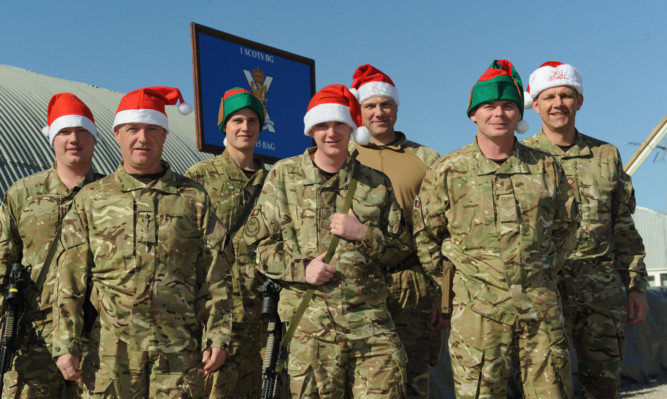 Troops on tour in Afghanistan will celebrate Christmas with cups of tea in bed and a traditional dinner served up by their senior officers.
Soldiers from the Royal Scots Borderers, 1st Battalion, the Royal Regiment of Scotland (1 Scots) will be given the treat as part of an army tradition for special occasions.
At main operating base Price in Helmand Province, privates and corporals will wake up tomorrow morning with tea and coffee served by sergeants, warrant officers and other senior ranks.
The same practice will be carried out during dinner at the battalion's main base at Camp Tombstone, where roast turkey and Brussels sprouts will be on the menu.
Activities have been planned for the troops at both camps, including carol services, a quiz, football and volleyball competitions.
Trees have been decorated around both Tombstone and Price, and soldiers have hung tinsel and signs in their group tents.
Presents and cards from home have been arriving through Camp Bastion, with more than 130 tonnes of mail being brought into the military base for UK troops over the last week.
Welfare staff have arranged for gifts to be sent to forward operating bases to make sure all of the soldiers have something to open on Christmas morning.
Captain Gary Wallace (42), from Perth, said: "Myself and all the officers and soldiers of 1 Scots will be missing our families at this time, but we do recognise that we are doing a job out here and we're focused on completing it.
"I'll miss my wife and daughters most and family and friends, and just being home for all of the Christmas activities however I won't miss the Christmas shopping," he said.
"It would be too easy just to sit back and do nothing.
"However, we'll be making a conscious effort to do as much as we can to make it as festive as possible."
The 1 Scots battalion is on a six-month tour of Afghanistan, which started in September, working with the Afghan National Army in a mentoring and advisory role to prepare it for the handover of responsibility for the country's security.