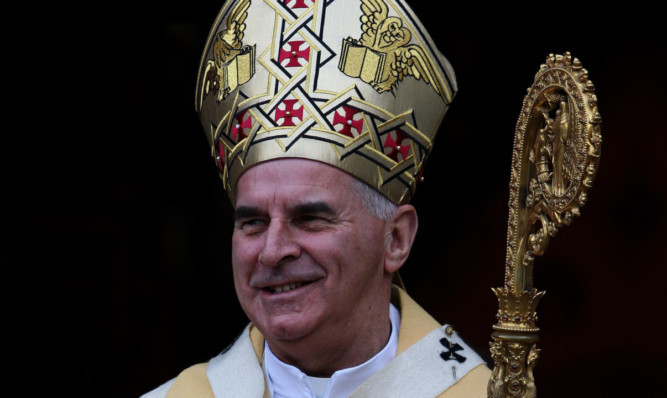 Britain's most senior Roman Catholic cleric should be allowed to help choose the next Pope despite facing allegations of inappropriate behaviour, the former archbishop of Westminster has said.
Cardinal Cormac Murphy-O'Connor expressed sadness at the claims which are denied made against Cardinal Keith O'Brien, leader of the church in Scotland.
Three priests and a former priest have complained to the Vatican about behaviour towards them going back 30 years, a Sunday newspaper said. They are reported to be demanding Cardinal O'Brien's resignation.
"I was obviously very sad to hear that," said Cardinal Murphy-O'Connor.
"The cardinal has denied the allegations, so I think we will just have to see how that pans out. There have been other cases which have been a great scandal to the church over these past years.
"I think the church has to face up has faced up to some of them very well indeed."
Cardinal Murphy-O'Connor said it was up to Cardinal O'Brien, who is reported to have sought legal advice, "how he faces the allegations".
He pointed out that Cardinal O'Brien was due to retire when he turns 75 next month. Asked if the cardinal should still be able to go to the Vatican to take part in the selection of Pope Benedict's successor, Cardinal Murphy-O'Connor said: "That is up to Cardinal O'Brien to decide… It will be up to him, and I think rightly so.
"The allegations have not been proved in any way, so he will have to decide whether he wants to go."
Cardinal O'Brien, who was born in Ballycastle, Co Antrim, has been the Archbishop of St Andrews and Edinburgh since 1985. He has been an out-spoken opponent of plans to legalise same-sex marriage.
The claims emerged days after Cardinal O'Brien called for the Catholic Church to end its celibacy rule for the priesthood. He said many priests struggle to cope with celibacy and should be allowed to marry if they wish.
It was also reported that Cardinal O'Brien missed mass at St Mary's Cathedral in Edinburgh on Sunday.
The BBC website said Bishop Stephen Robson told the congregation: "A number of allegations of inappropriate behaviour have been made against the cardinal.
"The cardinal has sought legal advice and it would be inappropriate to comment at this time. There will be further statements in due course."