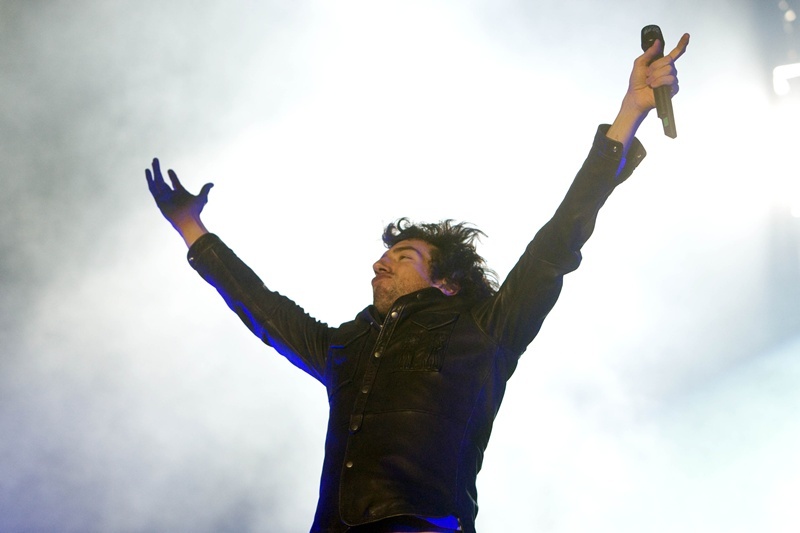 Against all the forecasts, T in the Park 2012 began in glorious sunshine with not a drop of rain in sight.
Predictions of a sea of mud from start to finish were way off the mark and, in strict comparison to the churned-up campsite, perfect underfoot conditions greeted the 70,000 or so revellers who streamed into the main arena.
Sunscreen, rather than wellies, was the order of the day, although campers have woken up to a wet Saturday.
The first notes of the day were struck by The Darkness, returning to open the main stage for the first time since 2004, when they headlined in place of the injured David Bowie.
It was a flying start for Scotland's favourite festival, with a record 85,000 music fans cramming into the main arena for the first time on a Friday.
Festival director Geoff Ellis was delighted with yet another successful opening day.
"The fans have been amazing. The atmosphere is always brilliant at T in the Park, but so far, it's been even better than ever," he said. "There's been a lot of talk about the weather but we've had a few dry, sunny days here in Balado and the weather forecast is looking good.
"As always, fans should prepare for all weather, bringing everything from sunscreen to wellies with them."
Fellow T favourites The Kaiser Chiefs blasted back on to the main stage in fine form, while younger acts Example and Florence and the Machine were making their main stage debuts.
Meanwhile, The Temper Trap, Olly Murs, Professor Green and Tinie Tempah packed the Radio 1/NME stage.
Dundee band The Mirror Trap played a blinder in the T Break tent, drawing a great crowd for their biggest gig yet and proving that yet again Dundee has young talent to match the best in the country.Click here for a full photo galleryLead singer Gary (The Panther) Moore said: "That was insanely enjoyable. Looking out from the stage and seeing T in the Park is one of the things you dream about.
"The Darkness started before us so officially we're saying they supported us."
The popularity of headliners Snow Patrol was underlined with a massive crowd to witness the day's finale by one of the biggest bands on the planet, who began their T in the Park careers in the T Break stage.
The fans were also praised by Tayside Police after only one person was arrested in the 24 hours from Thursday to Friday at 4pm.
Event commander Rick Dunkerley said: "Festivalgoers have behaved brilliantly and police officers and stewards are very much enjoying their engagement with them so far."