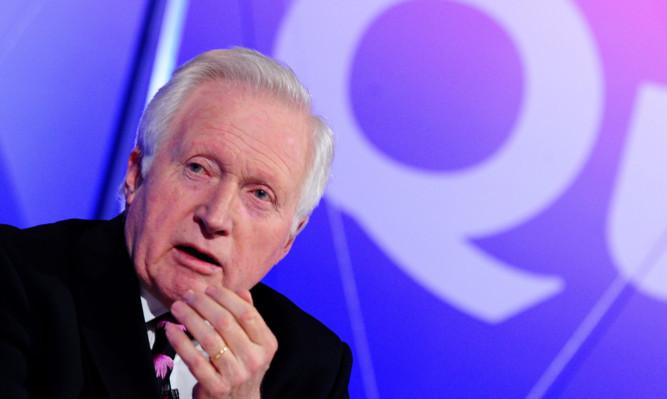 The BBC sacrificed political balance in favour of "sensationalist confrontation" in the selection of the panel for its political debate programme Question Time, the Scottish Greens have claimed.
Thursday's show, broadcast from Edinburgh, featured both Respect MP George Galloway and UKIP leader Nigel Farage, but no representative from the Greens.
Green co-leader Patrick Harvie has written to the BBC formally to complain while the Radical Independence Campaign (RIC) planned to protest against both Mr Farage and Mr Galloway's appearance.
The RIC group was part of a protest against Mr Farage during his last visit to Edinburgh, forcing him to abandon the media launch of UKIP's Aberdeen Donside by-election campaign.
Neither Respect or UKIP represent Scottish constituencies but the Greens have two MSPs and 14 councillors.
Mr Harvie said: "Tonight's Question Time line-up is particularly bizarre and following a telephone discussion with the editor it is clear to me that this programme has been contrived to deliver sensationalist confrontation, rather than serious debate.
"The lack of balance is staggering and I know from comments we've received it's not just Green supporters who are alarmed. This situation is particularly unacceptable a week before the Scottish parliamentary by-election in Aberdeen Donside, which should require particular attention to political balance.
"The BBC has shown serious misjudgement in allowing tonight's programme to go ahead and we look forward to meeting senior managers to discuss how they intend to rectify a situation that will have harmed the broadcaster's reputation for fairness."
Liam O'Hare, a spokesman for RIC Edinburgh, said: "Why has the BBC invited Farage and Galloway to participate in the Question Time debate, and not Patrick Harvie?
"It is clear that the BBC is prioritising shock jock punditry ahead of facilitating a meaningful debate on the future of Scotland.
"This is being billed as an 'independence special' and should therefore reflect the debate properly."
The audience for the programme, which focused on issues surrounding independence, was made up of 16 and 17-year-olds who will be eligible to vote in the 2014 referendum.
Chaired by David Dimbleby, the panel also featured Scottish Conservative leader Ruth Davidson; deputy leader of the Scottish Labour Party and MP for Glasgow Central Anas Sarwar, and Angus Robertson, SNP MP for Moray and the party's leader at Westminster.
A spokeswoman for the BBC had said: "Tonight's programme aims to provide its unique audience of 16 and 17-year-olds with as broad a range of political opinion as possible, while offering a UK-wide audience at home a varied and interesting political and current affairs debate.
"Nigel Farage represents a party with growing UK support and their recent electoral gains since the 2010 general election makes them of interest to our audience.
"The Question Time panel is chosen carefully across the series and the Green Party has appeared on the programme twice in the last four months.
"The Scottish Greens will be invited to appear on the programme in a future edition recorded in Scotland."
SNP MSP Jim Eadie has written to BBC Director General Tony Hall seeking an explanation for the choice of panelists.
"By adopting this one-sided approach, the BBC is failing its own traditions of high-quality public service broadcasting," he said.
"This sort of behaviour calls into question any claim it makes that it is impartial in the independence debate."
During the programme, MP Robertson spoke out against the construction of an imbalanced panel in relation to the issue of independence.
He said: "On the panel we have four politicians from other political parties who are opposed and only one who is in favour. I think parity would be good."
He also went to talk about a "really important" forthcoming election in Scotland, which was in reference to the by-election in Aberdeen next week but the BBC presenter David Dimbleby stressed that this was not relevant to the debate on the show.
"Question Time does not follow by-elections, never has. National elections yes," said Mr Dimbleby.
He added: "Second of all on the independence issue, this audience is divided 50-50 on that issue."