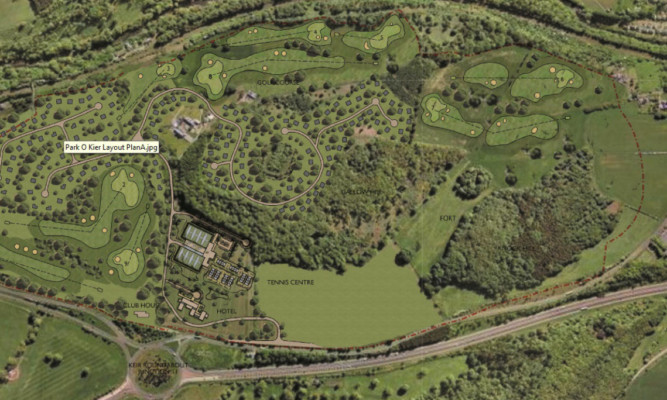 Judy Murray's plans to build a tennis and golf academy at a controversial site near Stirling could be called out by campaigners if the proposal includes housing.
Locals have long resisted residential development on Park of Keir, which separates Dunblane and Bridge of Allan.
Tennis ace Andy Murray's mother Judy joined former Ryder Cup captain Colin Montgomerie to announce proposals to build a sports complex on the 270-acre swathe of countryside last week.
They revealed that the tennis and golf centre could have a dozen courts, a nine-hole golf course, a caf and a hotel.
Developers, Auchterarder-based A&L King, confirmed that they also hope to build houses on the ancestral land, once owned by the Stirlings of Keir.
A spokeswoman for the house builder said: "Obviously, no numbers have been confirmed. We will need to go through a detailed site assessment.
"I'm not saying that there will be no houses. It's likely to be the case."
Pressure group Park of Keir Friends has seen off several attempts to build homes on the land, which is the site of an ancient Iron Age fort.
The tract has been the subject of two public inquiries and a failed community buyout.
"This is a very controversial area," secretary of the group Ann Shaw told The Courier.
"It is green-belt land and if houses were built there it would join up two distinct communities. We're keen to keep them separate everybody is. So our position has not changed. We object to housing on that site."
Green councillor for Dunblane and Bridge of Allan Mark Ruskell also indicated that he will oppose a residential development.
"There has been a long and controversial history of attempts to put inappropriate development on Park of Keir," he said.
"The outcome of the last public inquiry was crystal clear in rejecting any housing on the site, developers must respect that."
Stirling is one of three cities vying to be the site for Scotland's National Performance Centre for Sport. It is hoped that the tennis and golf complex could become a key element of the tender.
Labour councillor John Hendry, who is heading up Stirling's bid, warned that Judy Murray and Colin Montgomerie's project may not be financially viable without housing.
He said: "I'm quite relaxed at having a good look at the benefits (of the tennis and golf centre), as opposed to the downside of taking housing alongside it.
"It might be it's that part of the development that makes it work. I haven't seen any numbers on houses but the costs of these developments often work on taking profit out of housing."
Although supportive of the academy, Mr Hendry admits that it could be blocked by local campaigners.
He said: "That area has been a contentious issue for about 25 years. Any attempt to develop on that land has led to aggravation. We're expecting opposition to it."
Public exhibitions will be held during July and August and, if the development secures planning permission, work would start next year.
Mr Hendry added: "My view is, this is an opportunity that we shouldn't let slip. It won't be plain sailing for the project but I'm hoping that whatever happens, we can make it work."
Speaking to The Courier on Saturday, Judy Murray said: "It's just a proposal at this stage. There is quite a long way to go yet."
The new centre has been a long-held ambition for Judy Murray and The Courier can reveal that the Bridge of Allan-born tennis coach has been lobbying Stirling Council over several years.
Officials say some proposals put on the table in the past have included housing, however it is unlikely the local authority will support the complex if plans include residential development.