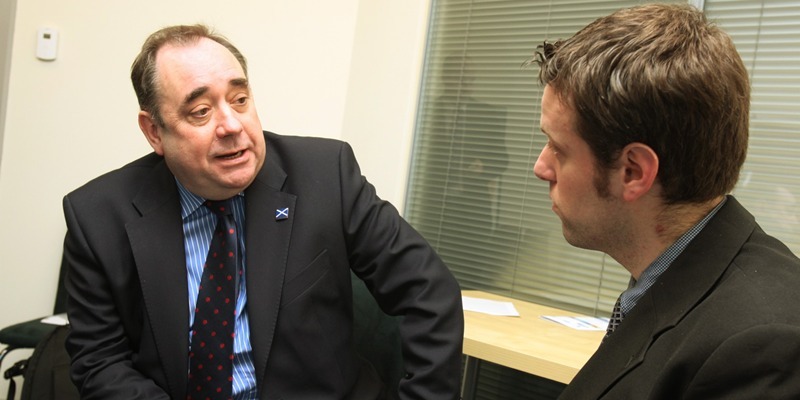 First Minister Alex Salmond has backed The Courier's fight for fairer fuel, saying it would help to "redress an injustice."
Speaking exclusively to The Courier, Mr Salmond said he was "delighted" to learn of our campaign to back a fuel duty regulator.
Support for The Courier's campaign has gathered momentum as it received the backing of the AA, while finance secretary John Swinney described the campaign as "vital" for protecting Scotland's communities.
The Scottish farmers' union the NFUS also backed our campaign.
With petrol prices hitting highs of up to £1.40 a litre in places, the first minister believes a cut in duty would be of "enormous benefit" to overburdened families.
"It gives me very great pleasure to back The Courier's campaign," said Mr Salmond.
"This is undoubtedly the right moment for a regulator something that was first proposed by Dundee East MP Stewart Hosie."
He added, "If such a measure was introduced in Scotland it could knock up to 10p a litre off the price of petrol.
"There is no doubt that would be of enormous benefit to hard-pressed individuals, families and businesses across the country."'Cameron better have a care'Mr Salmond said that Scots are routinely forced to pay "more than their fair share" for petrol.
He said, "It is unbelievable that those living in what is the second largest oil producer in Europe should be facing the highest prices at the pumps.
"I am very much in favour of a regulator which would redress some of the injustice."
He warned Prime Minister David Cameron and Chancellor George Osborne not to ignore the issue.
While Labour had previously opposed a fuel duty regulator, the Conservatives had at least when in opposition appeared fulsome in their support.
Mr Salmond said, "The Tories previously said they were in favour of a regulator they said they would do it if they were in power.
"Well, Mr Cameron better have a care on this."'Absolutely delighted' to helpMr Salmond believes that the Westminster Government will face an embarrassing and politically awkward climbdown if it now fails to introduce a duty regulator.
Mr Salmond pointed out that Deputy Prime Minister and Liberal Democrat leader Nick Clegg had found the going tough after he failed to live up to pre-election promises.
He said, "If he is not very careful, Mr Cameron could end up like Nick Clegg during the tuition fees debacle.
"The Prime Minister could very well suffer the same fate if he changes his position now."
He added, "I am absolutely delighted to support The Courier's campaign and wish it every success."