A Facebook campaign fighting for Leuchars' retention as an RAF base has gathered more than 11,000 members.
Save RAF Leuchars was set up by former army clerk Allan Duffy, of Inverness, to persuade the Ministry of Defence against ending the 90-year history of the air force in north-east Fife.
Fears for the future of RAF Leuchars have been kindled after rumours emerged that ministers were considering closing it as an air force base, rather than RAF Lossiemouth or RAF Marham, in Norfolk.
It was previously believed that the Fife air base would be safe from the defence cuts to which RAF Kinloss had fallen victim.
Constituency secretary of the SNP in Inverness and Nairn, Mr Duffy, who was brought up in Fife, is also involved in the campaign to support RAF Lossiemouth.
He urged those who log on to Save RAF Leuchars cause to "unite against this serious mistake by Westminster."
He said, "Before I joined the army, I was brought up in Fife and had many great times in St Andrews.
"When I heard about this bad decision being made by Westminster, I decided to start this page to save RAF Leuchars from closure."
He added, "I am asking you all to join and support this cause, as you have for RAF Lossiemouth.
"We can't allow our Scottish communities to be flushed away. Like Lossiemouth, this will devastate the St Andrews area."
As well as signing up to back the cause, members have been posting messages of support on its pages.
Heather Hosea kept it simple, saying, "Do not close Leuchars."
Another, Gail Reid, said, "We lived there for 15 years, our kids were all born there cannot imagine the area without it."
The Save RAF Leuchars pages also feature links to the petition launched by north-east Fife MP Sir Menzies Campbell and MSP Iain Smith, and an i-petition which opposes the closure of any of Scotland's RAF bases.
Millions of pounds have already been spent on preparing RAF Leuchars, currently a Tornado base, for the transition to the Eurofighter Typhoon.
Its first of three planned Typhoon squadrons, 6 Squadron, is due to take over the station's quick reaction alert responsibility the defence of northern UK airspace in March.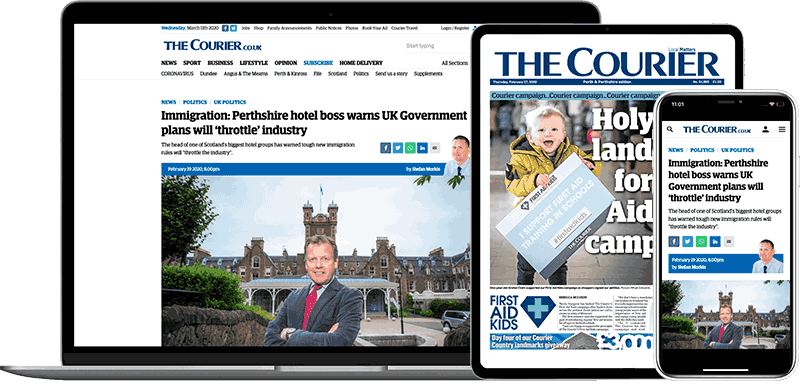 Help support quality local journalism … become a digital subscriber to The Courier
For as little as £5.99 a month you can access all of our content, including Premium articles.
Subscribe