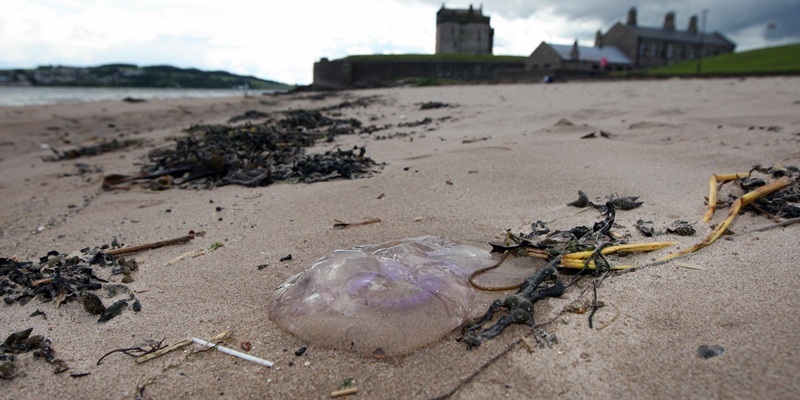 Plagues of "scary-looking" jellyfish are forcing beach swimmers and paddlers to stay out of the water and have even forced the shutdown of one of Scotland's nuclear power plants.
Thousands of jellyfish have been spotted by beach users up and down the country, and with the warmer weather over the past few days, more and more people have come across the creatures.
Matt Roderick, from Perth Road, was swimming at Broughty Ferry beach when he realised he was surrounded by jellyfish.
"I was up to my neck and at first it was only the cold that was worrying me it was absolutely freezing," he said.
"Then I looked down and could see about six jellyfish floating near. It was quite scary. They're not huge and I don't know if they can sting you, but I got out the water as quickly as I could.
"There were quite a few on the beach as well that had been washed up. They're quite scary looking."
Meanwhile, legions of jellyfish disrupting the nuclear reactors at Torness have also made their way across the Forth, with dozens spotted on Seafield Beach at Kirkcaldy this week.
Bryan Murray from Kirkcaldy said they were all over the place when he was walking on Thursday.
"I'm quite often down at the beach for a wander, and I counted dozens of them at the water's edge. I was in my bare feet, so I made a quick about turn and stuck my sandshoes back on."
Both reactors at the Torness nuclear power station were shut down on Wednesday after huge numbers of jellyfish were found in seawater entering the plant.
They were found obstructing cooling water filters on Tuesday.
An EDF spokesman said, "At no time was there any danger to the public. There are no radiological aspects associated with this event and there has been no impact to the environment."
It is not known why there are so many jellyfish in the area.
Water temperatures along the east coast have been relatively normal, but it is thought above-average temperatures elsewhere in the North Sea could be a factor.
Operations at nuclear power plants in Japan have been disrupted by large numbers of jellyfish in recent years.