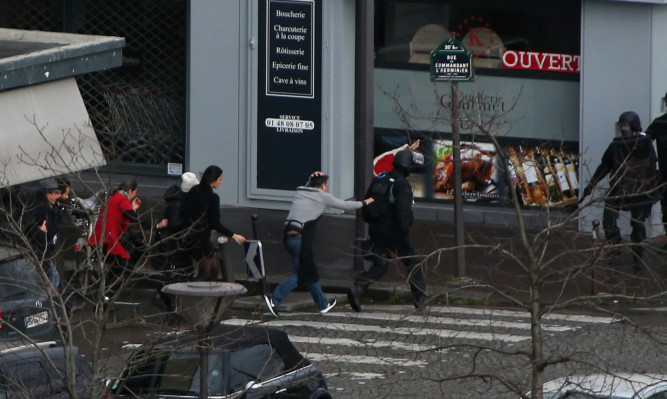 French police have stormed a printing plant north of Paris, freeing a hostage and killing two brothers linked to al Qaida who were suspected of murdering 12 people at a Paris newspaper two days ago.
Two groups of terrorists had seized hostages at separate locations around the French capital, facing off against thousands of French security forces as the city shut down a famed Jewish neighbourhood and scrambled to protect residents and tourists from further attacks.
By Friday afternoon, explosions and gunshots rang out and white smoke rose outside a printing plant in Dammartin-en-Goele, north east of Paris, where brothers Cherif Kouachi, 32, and Said Kouachi, 34, had holed up with a hostage.
Security forces had surrounded the building for most of the day. After the explosions, police Swat forces could be seen on the roof of the building and one police helicopter landed near it.
Audrey Taupenas, spokeswoman for the town near the Charles de Gaulle airport, said the brothers had died in the clash.
France has been on high alert since the country's worst terror attack in decades – the massacre on Wednesday in Paris at the satirical newspaper Charlie Hebdo that left 12 people dead.
Minutes before the storming, a gunman in a Paris kosher grocery store had threatened to kill his five hostages if French authorities launched an assault on the two brothers, a police official said. The two sets of hostage-takers know each other, said the official.
Trying to fend off further attacks, the Paris mayor's office shut down all shops along Rosiers Street in the city's famed Marais neighbourhood in the heart of the tourist district. Hours before the Jewish Sabbath, the street is usually crowded with shoppers – French Jews and tourists alike. The street is also only a kilometre (half a mile) away from Charlie Hebdo's offices.
At the kosher grocery near the Porte de Vincennes neighbourhood in Paris, the gunman burst in shooting just a few hours before the Jewish Sabbath began, declaring: "You know who I am," the official recounted. The attack came before sundown when the store would have been crowded with shoppers.
The official said the gunman is also believed responsible for the roadside killing of a Paris policewoman yesterday.
Paris police released a photo of the gunman, Amedy Coulibaly, and a second suspect, a woman named Hayet Boumddiene, who the official said was his accomplice.
Several people wounded when the gunman opened fire in the kosher grocery were able to flee and get medical care, the official said.
Police said 100 students were under lockdown in schools nearby and the highway ringing Paris was closed.
Hours before and 40 kilometres (25 miles) away , a convoy of police trucks, helicopters and ambulances streamed towards Dammartin-en-Goele, a small industrial town near Charles de Gaulle airport, to seize the Charlie Hebdo suspects, who had hijacked a car in a nearby town after more than two days on the run.
"They said they want to die as martyrs," Yves Albarello, a local politician who said he was inside the command post, told French television station i-Tele.
Cherif Kouachi, 32, was convicted of terrorism charges in 2008 for ties to a network sending jihadis to fight US forces in Iraq.
A Yemeni security official said his 34-year-old brother, Said Kouachi, is suspected of having fought for al Qaida in Yemen. Another senior security official says Kouachi was in Yemen until 2012.
Both brothers were on the US no-fly list, a senior US counterterrorism official said.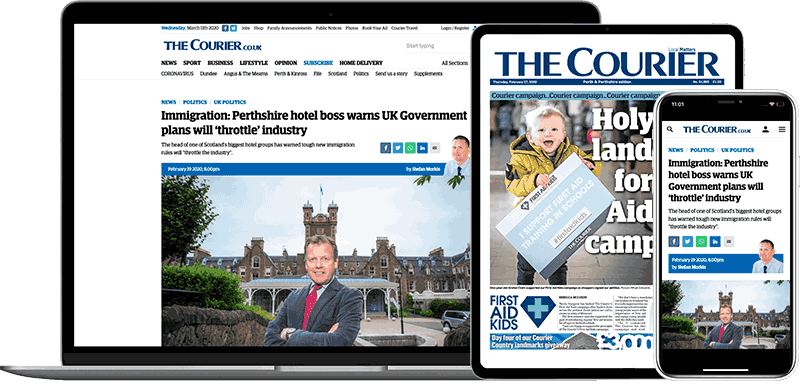 Help support quality local journalism … become a digital subscriber to The Courier
For as little as £5.99 a month you can access all of our content, including Premium articles.
Subscribe