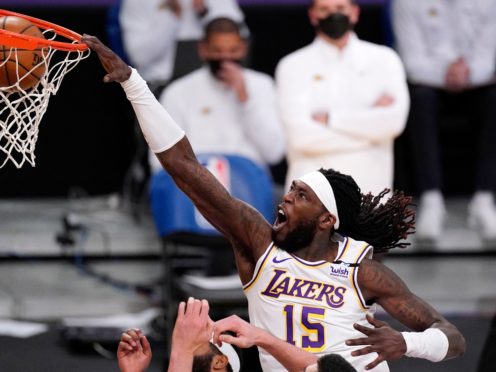 A lay-up from Dennis Schroder forced his Los Angeles Lakers into overtime against the league-leading Utah Jazz and the Californians stayed the distance to emerge 127-115 victors.
The Lakers were their own worst enemy after blowing a 14-point lead early in the fourth quarter, but managed to stop the rot by outscoring the Jazz 17-5 in the extra period.
In the absence of injured stars – Utah were without Donovan Mitchell, Mike Conley and Rudy Gobert while Los Angeles did not have LeBron James or Anthony Davis – Jordan Clarkson led the Jazz with 27 points, the same number contributed by Andre Drummond of the Lakers.
The Boston Celtics claimed their sixth straight win after Jayson Tatum scored 44 points and had 10 rebounds en route to a 119-114 victory against the Golden State Warriors.
Two-time league MVP Steph Curry poured in 47 points but it was not enough to steal the advantage from the Celtics, whose guard Kemba Walker nailed a crucial three-pointer to slow the Warriors' momentum with 24 seconds remaining.
The injury-hit San Antonio Spurs stopped the Phoenix Suns' 10-game winning streak with a dominant 111-85 performance, while Nikola Vucevic scored 25 points as his Chicago Bulls downed the Cleveland Cavaliers 106-96.
The Memphis Grizzlies began their seven-game road-trip with a 128-115 triumph over the Milwaukee Bucks and the Washington Wizards were 121-100 victors against the Detroit Pistons.