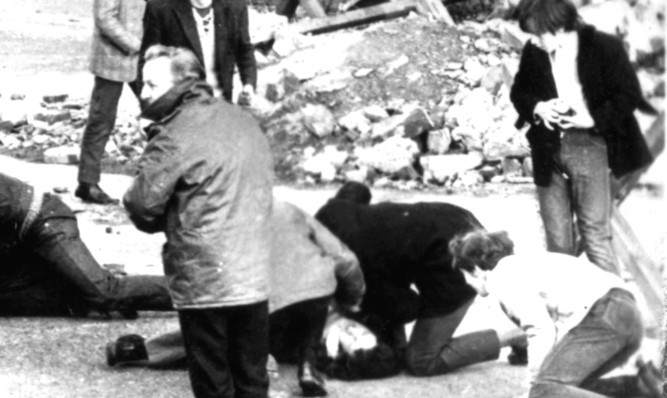 A former British soldier has been arrested by detectives investigating the Bloody Sunday killings in Londonderry in 1972.
Officers from the Police Service of Northern Ireland's Legacy Investigation Branch said they had arrested a 66-year-old man in Co Antrim.
Security sources confirmed the detained pensioner was an ex-soldier.
Thirteen civil rights demonstrators were killed by members of the Parachute Regiment on the streets of Derry in January 1972. Another victim of the shootings died months later.
It is the first arrest made by officers since their murder investigation into the events of Bloody Sunday was launched in 2012.
The probe was initiated after a Government-commissioned inquiry undertaken by Lord Saville found that none of victims was posing a threat to soldiers when they were shot.
Following the publication of the Saville report in 2010, Prime Minister David Cameron apologised for the Army's actions, branding them "unjustified and unjustifiable".
In September, the PSNI announced their intention to interview seven former soldiers about their involvement on the day.
The suspect detained on Tuesday has been taken to a police station in Belfast for questioning.
The officer leading the investigation, Detective Chief Inspector Ian Harrison, said the arrest marked a "new phase in the overall investigation".
He said the phase would continue for "some time".