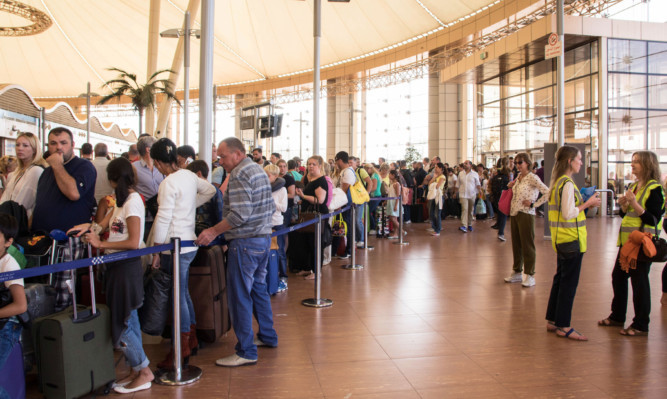 Hundreds more Britons are expected to return to the UK today as airlines continue to lay on flights to bring home stranded tourists from Sharm el-Sheikh.
Almost 5,300 holidaymakers have returned home since flights recommenced on Friday, with 1,936 departing from the Red Sea resort on eight flights yesterday.
Heightened security measures following the downing of a Russian plane last month mean many more are still stuck in the Egyptian city and at least 11 flights are expected today.
Investigators are understood to be 90% sure a noise picked up by the cockpit voice recorder in the final seconds of the flight was the sound of the explosion caused by a bomb.
The Airbus 321 was still gaining altitude as it disintegrated 23 minutes after take-off on October 31, killing all 224 people on board the Metrojet flight.
Thomson Airways today extended its delay in resuming the operation of outbound flights to Sharm, from Thursday to November 25.
Customers travelling to the resort up to December 10 are able to amend their booking free of charge to take another holiday by the end of April 2016.
The airline is expecting to operate four flights back to the UK from Sharm today. Thomas Cook, Monarch and easyJet are due to have two flights each, while British Airways has one.
London Gatwick, Luton, Manchester, Birmingham and Edinburgh airports will all be served.
As thousands of holidaymakers remain stranded in Sharm el-Sheikh, tour operators and airlines are expected to cover the costs of extended stays.
Some tourists returning to the UK described chaotic scenes, with people trampled and hurt as they rushed for planes while swamped security staff carried out only cursory checks.
Others said security at the airport had been ramped up significantly, with armed guards on checkpoints outside the main terminal building and three further security checks inside.
Foreign Secretary Philip Hammond yesterday warned airport security around the world would have to be overhauled if it was confirmed the crash in the Sinai was caused by an Islamic State (IS) bomb.
The investigation committee has yet to formally declare its findings, but Mr Hammond reaffirmed that the view of the British authorities was that it was "more likely than not" that the crash was the result of a terrorist bomb planted on the aircraft before it took off from Sharm el-Sheikh.
And he said there would have to be a major rethink of airport security in countries where IS, also referred to as Isil or Isis, is active if it turned out that they were behind the attack.
"If this turns out to be a device planted by an Isil operative or by somebody inspired by Isil then clearly we will have to look again at the level of security we expect to see in airports in areas where Isil is active," he told BBC1's The Andrew Marr Show.
British tourists waiting to get out of Sharm el-Sheikh could experience a delay of "two or three days", he added.
The Foreign Secretary also suggested the incident could open up the possibility of renewed co-operation between the West and Russia on Syria where IS is concentrated.