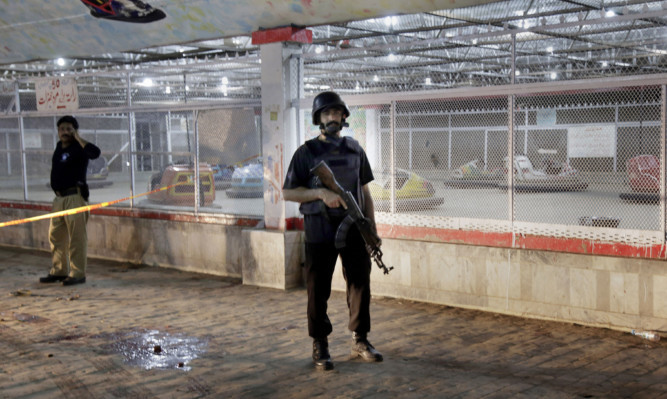 The death toll from a massive suicide bombing targeting Christians gathered at Easter in the eastern Pakistani city of Lahore has risen to 70.
A three day period of mourning has begun following the attack near children's rides in the Gulshan-e-Iqbal park, which was crowded with Christians celebrating Easter, local police chief Haider Ashraf said.
A breakaway faction of the Pakistani Taliban, which has sworn allegiance to the Islamic State group, claimed responsibility.
Jamaat-ul-Ahrar's spokesman Ahsanullah Ahsan said the suicide bomber deliberately targeted the Christian community. Almost 300 people were wounded in the explosion.
In the capital, Islamabad, the army fanned out Monday around the Parliament and other strategic points to prevent riots by militant protesters who have been rallying there since the previous day.
Punjab's chief minister Shahbaz Sharif announced three days of mourning and pledged to bring the perpetrators to justice.
The park was manned by police and private security guards, police chief Haider Ashraf said.
"We are in a war-like situation and there is always a general threat, but no specific threat alert was received for this place," he added.
Pakistan's army chief, General Raheel Sharif, has convened an emergency meeting of the country's intelligence agencies to begin to track down those responsible for the attacks.
Salman Rafiq, a health adviser to the Punjab government, urged people to donate blood, saying many of the wounded are in a critical condition.