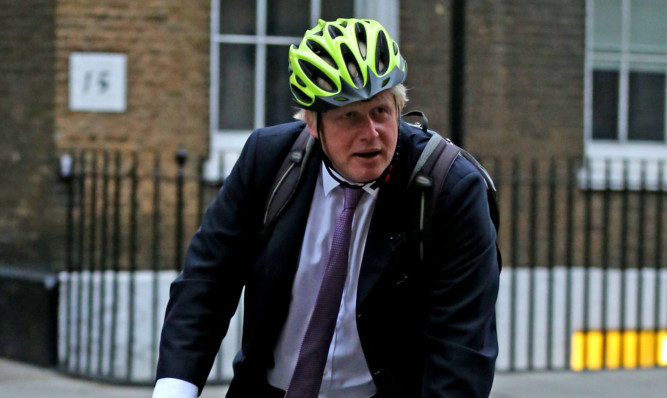 The cabbie sworn at by Boris Johnson is a "serial heckler", according to a source close to the London Mayor.
Mr Johnson has been caught on film telling the black-cab driver to "f*** off and die".
The 10-second video, obtained by the Sun and Daily Mail, shows Mr Johnson, recently elected as Tory MP for Uxbridge and South Ruislip, being harrangued by the driver while cycling in Islington, north London.
Captured by a by-stander, the film shows the driver leaning out of his window and shouting: "You are one of them mate, that's what you are. One of them."
Mr Johnson then replies: "Why don't you f*** off and die – and not in that order." As he drives away, the cab driver shouts: "Yeah b******s, hope you die."
The incident reportedly took place as Mr Johnson was cycling home on June 5 at around 12.20am in St John's Street, Islington.
A close ally of Mr Johnson said: "Boris has dozens of chance conversations with Londoners every week. Many are productive and friendly, some are colourful, I know most end happily.
"I believe this particular cabbie however is a serial heckler. He offered Boris a few choice words. Boris felt obliged to offer him a few in return. And off they went."
It is thought the row may have been over the activities of rival minicab booking service Uber whose activities have led to protests by London taxi drivers over what they see as unregulated competition.
Mr Johnson is seeking to limit the number of minicab operators in the capital but has faced criticism over Uber from cabbies and political opponents.
Today, Labour's London Assembly transport spokesperson Val Shawcross said: "The mayor's foul language gets in the way of the real issue here.
"Our taxi industry is in crisis, and taxi drivers are incredibly concerned about the threat to their livelihoods posed by private hire vehicles."
She went on: "The mayor has the power to put in place a strategy to tackle the challenges facing the industry. But so far he's completely failed to respond to any of our calls to do just that.
"The mayor could avoid further confrontation with the taxi trade if he bucks his ideas up and does something to address the bad practice undermining the industry."