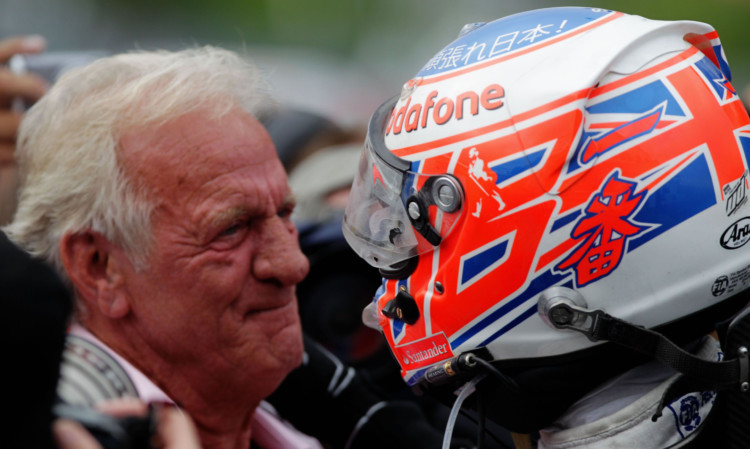 Tributes have flooded in for McLaren driver Jenson Button's father, who has died of a suspected heart attack at the age of 70.
Proud John Button had been a guiding force and a stalwart of support from his son's early days as a child racer in karting competitions through to his Fomula One world championship victory in 2009.
The Button family said they were "devastated" after he was found dead in his home on the French Riviera by a friend on Sunday.
Tributes came from around the paddock, where he was affectionately known as Papa Smurf. Former F1 world champion Lewis Hamilton tweeted: "Deeply saddened by the passing of John Button. I'm so sorry. John was such a great man and will be missed by so many. God bless."
Fernando Alonso also took to Twitter to say "My condolences to all the Button family, especially to Jenson. Very sad news. John… a great man, a friend, we will miss him" while driver Heikki Kovalainen added: "'So sad to hear John Button has died, a great character who will be missed. Sincere condolences to Jenson Button & his family at this time."
Mr Button, who used to drive rallycross, became a familiar face on the F1 circuit as he proudly cheered his son on to success.
A "very sad" McLaren Mercedes team principal Martin Whitmarsh said: "In my long Formula 1 career, I've encountered many drivers' fathers, but I think it's safe to say that John was perhaps more devoted to his son than any of them.
"Ever since Jenson was a boy, racing go-karts, his dad has been at his side, helping him, supporting him, finding the money for the next race.
"As Jenson grew older, and continued to win in cars, still John was always there, his most steadfast helper and supporter.
"And, even now, in recent years, during which Jenson has become the consummate Formula 1 world champion that he is, the most experienced driver on the Formula 1 grid in fact, still John has been ever-present, as loyal and as loving as ever, a benign and popular member of Jenson's small and intimate entourage.
"This coming season will be Jenson's fifth as a McLaren driver. I believe John has attended every grand prix over the past four seasons, and over that period he's become a unique and, I think it's fair to say, irreplaceable part of the McLaren 'family'.
"He was not only a great dad, but also a lovely man, and he'll be enormously missed by Jenson, of course, by all at McLaren, and indeed by the Formula 1 community at large.
"I'm sure that everyone at McLaren, and indeed everyone in Formula 1, will join me in sending our heartfelt condolences to Jenson, to the Button family, and to their many friends."
When Mr Button split from his wife Simone, Jenson moved in with his father but the close links remained with his mother and older sisters, Natasha, Samantha and Tanya.
As an eight-year-old schoolboy who drove to victory in his first race, freckle-faced Jenson had already told his father he wanted to be a F1 world champion one day. With his father's backing, this dream went on to become a reality.
They were not flush with money. Mr Button once had to borrow enough money to buy fuel for the drive home from a kart race in Scotland.
Mr Button coached his son and helped pay for his racing from a kart engine preparation business.
Anthony Hamilton, whose son Lewis would become the 2008 world champion, was among his customers.