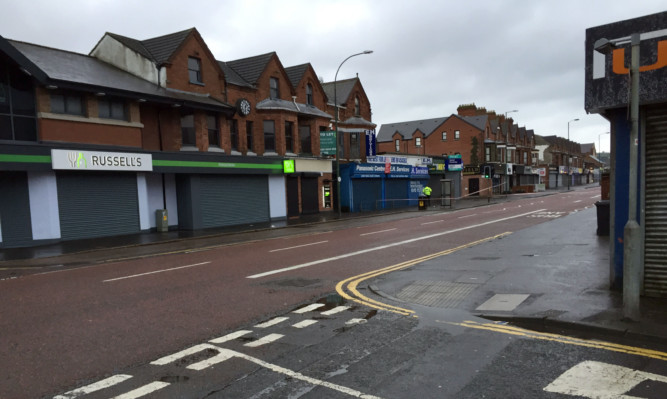 A serving prison officer has been injured after an explosive device detonated under the van he was driving in Belfast.
The 52-year-old is in a stable condition in hospital.
The finger of suspicion will point at dissident republicans opposed to the Northern Ireland peace process.
The explosion happened in the Hillsborough Drive area off the Woodstock Road in the east of the city just after 7am.
It is understood the officer was driving to work when the device detonated.
Detectives are examining whether the bomb dislodged from the vehicle as it was going over a speed bump, thus lessening the impact of the blast.
The Woodstock Road is a predominantly unionist/loyalist area.
Stormont First Minister Arlene Foster condemned the incident. "Disgraceful and despicable attack in east Belfast," said the Democratic Unionist leader.
A large cordon has been put up around the scene with several streets closed off. Part of a twisted bumper can be seen lying at the side of the road.
Among the families making their way to school and people walking to work there was a real sense of shock.
One shop worker waiting to gain permission to open up said he had heard a "massive" bang at about 7.20am. "I didn't know what it was but it was huge," said the man, who declined to be named.
East Belfast Assembly member Chris Lyttle said he was outraged, describing the attack as a "sickening echo of the past".
"I am shocked and sickened someone has attempted to take the life of this man," said the Alliance Party representative.
"It is difficult to put into words the contempt every right-thinking member of society will have for those behind this attack. The people responsible offer nothing except death, injury and disruption.
"Those trying to return Northern Ireland to a climate of fear will not be allowed to win. My thoughts and prayers are with those injured by this device, and I would urge anyone with information about this incident to contact police immediately."
A number of houses in Hillsborough Drive have been evacuated and an emergency centre has been opened at the Salvation Army on the Cregagh Road.