The Queen put on her dancing shoes as she showed support for volunteers and survivors of domestic abuse and sexual assault.
Camilla, 76, joined in with the staff and volunteers from the organisation Sauti Ya Wanawake (the Voice of Women) at the Situation Room in Mombasa, a centre supporting survivors of domestic abuse and sexual assault.
The group, from the female empowerment body, were singing songs about the power and importance of women in society.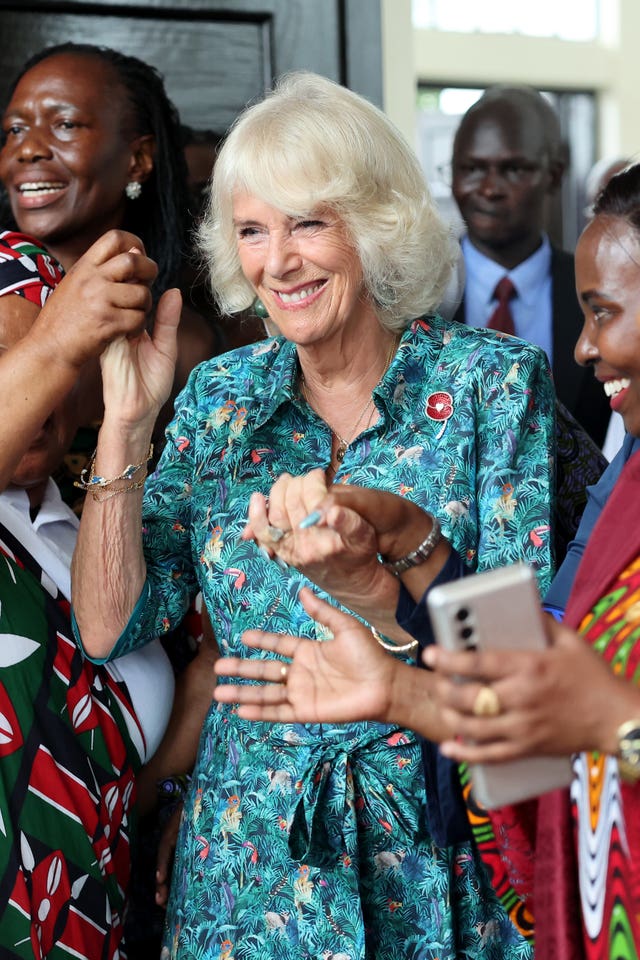 Camilla shuffled her feet and smiled as the women held her hands up in the air singing and chanting traditional African songs.
Beldine Otieno, from Sauti Ya Wanawake, said: "We were singing about women having responsibility for the family.
"We were praising women and our visitor. A woman is very important in the community
"She has brought development and education. She is the backbone of the society.
"We are very grateful to her coming in, without women, we think society is not complete.
"And lastly we sang the woman is a flower"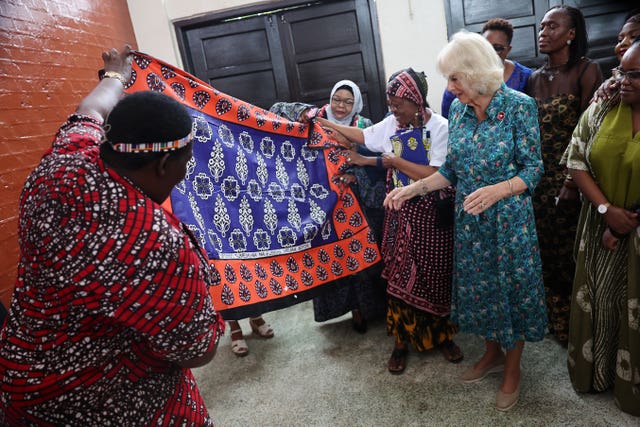 Asked about her impromptu dancing, Ms Otieno said: "She is very nice, lovely. I didn't know she could dance like that. We felt she is warm. She is a credit to women."
Camilla had earlier heard that 40% of Kenyan women suffer abuse in their lifetime.
The Queen was told she was helping to "break barriers" in Kenya against the stigma of gender-based violence.
She was presented with several brightly decorated Swahili shawls called a Leso, with inspiring messages.
Millicent Odhiambo, treasurer of Sauti Ya Wanawake, said: "The Queen's presence is a wonderful symbol of support for African women.
"We gave these gifts. Most women have a Leso in their bag or over their shoulder or around their neck or waist if they need to sit down with no chair, or cover up when menstruating or even having a baby. It surrounds the body and protects women."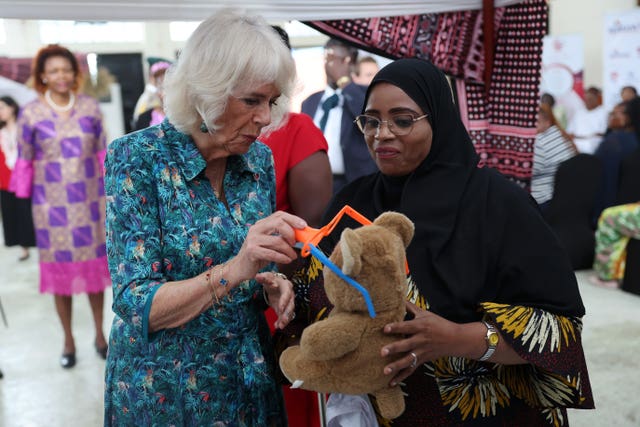 The Situation Room in Mombasa uses art as therapy for children to express what happened to them.
It aims to create a safe space for women and has grown from 50 women in 2001 to a movement with more than 8,500 members.
Inside the organisation's Tononoka Social Hall, Camilla was shown "survivor kits", which include sanitary products, shawls, toys, soap, snacks and other grooming items.
The Queen set up her Wash Bag Project – an initiative she established when Duchess of Cornwall in 2017 – which offers a gesture of comfort to survivors of sexual and gender-based violence.
She swapped survivor kits with the Kenyan charity.
And said: "It is important to give survivors confidence."